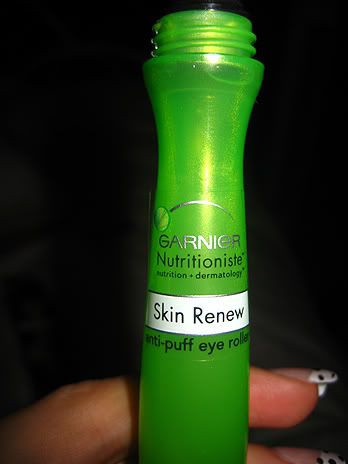 I forgot my camera at home hence I was unable to post at my usual time, LOL. I also got a little haircut since my hair was so long it was driving me nuts, well more like a trim since it doesn't look any different to me other than the fact that my hair feels a lot lighter which I love! Anyway, I bought this product about 2 months ago but forgot to write a review on it so I thought id write one now before I forget again!

Product: 2 out of 5
Packaging: 5 out of 5
Overall: 2 out of 5
Price: $10 (price varies depending on store)
Where to get it: Many drugstores have it
Would I buy it again? No

What they claim: Garnier Nutritioniste Skin Renew is our 1st anti-puff eye roller that uses a unique combination of skin-nutrients - Ingredient complexes developed exclusively by Garnier to work on skin's outer layer - and a cooling, roll-on applicator to stimulate micro-circulation. Diminishes dark circles. Skin Renew anti-puff eye roller is right for you if you want to gently stimulate micro-circulation around skin's delicate eye area to decongest excess fluid for diminished dark circles and puffiness.

Active Ingredients:
Caffeine - Decongests puffiness & diminishes dark circles
Pro-Vitamin B5 - Refreshes & hydrates the delicate eye area

PROS: It's non-greasy, easy to use, and doesn't take up a lot of space; the packaging is perfect for something like this which is why I gave it a 5 out of 5. It feels good upon application, a nice cooling and cold sensation to the eyes (like a liquid cucumber), has no weird smell. I did notice that it reduced puffiness a bit, not a whole lot, but a tiny bit...I used it morning and night everyday for about a month to two months, and my puffiness has gone down, but circles still there.

CONS: I didn't notice my dark circles disappear (as you can probably tell from my Dior HydrAction post, my circles are still there!) I didn't really notice any significant difference using this product other than it feels nice when you apply it.

Directions for using the roller: Just roll the ball a couple times on your under eye area.

Would I buy again? No, I think it's a waste of money and you can probably spend it on something else that will show better results.