Weekends are pretty much the only time I can get a FOTD in since during the week I work and don't have much time in the mornings, I wish there was more time in the day! I had several requests on a few things and trust me I didn't forget just haven't had time to either do them or upload them, but I am trying to get them out asap, so here is a tiny list of what I am working on: applying pigments wet (aka "foiling") using a sponge-tip applicator (I have a tut on this using a regular brush you can find it HERE), leopard eyes, reviews on blinc kiss me mascara, another tinted moisturizer, Kryolan foundation, finding the perfect foundation shade and how to apply foundation, glam/pinup girl look, hiding dark circles, look using only Milani e/s, and many more I can't think of at the moment, LOL.

Anyway, here is a look I did today because I got bored and wanted to dust off my Pure Luxe eyeshadow "Bad Girl" which I haven't used in awhile, kinda looks like the Laker's look I did awhile back but not as yellow since I used a neutral all over lid color (Overrich pigment in "Blonde's Gold"), what I like about this look? I only used 2 colors. :)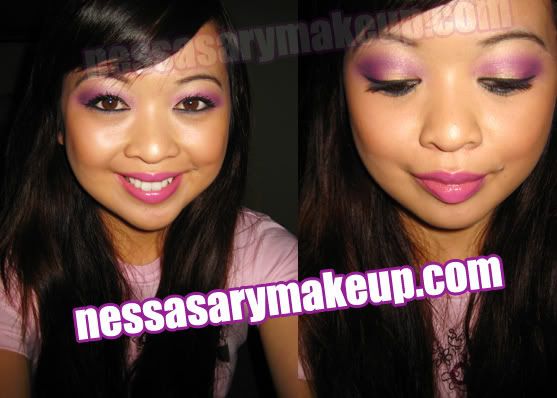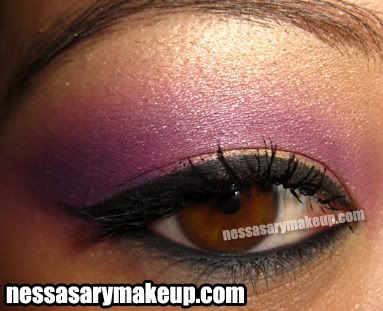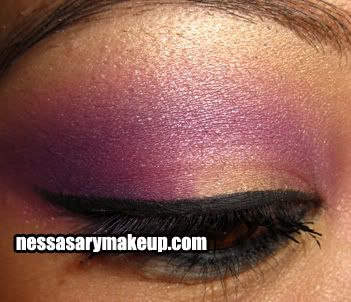 What I Used:
[Face]
- MAC StudioFinish Concealer in NC35
- Maybelline Age Rewind Concealer Wand (highlighting end)
- Purely Cosmetics Mineral Foundation in "Olive Beige"

[Cheeks]
- Jordana Blush in "Stardust"
- Modern Beauty Blush (the purple one forgot the name)

[Eyes]
- MAC Pigment in "Blonde's Gold" applied wet all over the lid
- Pure Luxe e/s in "Bad Girl" on outer-V and contour applied dry
- MAC Fluidline in "Blacktrack"
- Shiseido Mascara Base
- L'Oreal Telescopic Mascara
- MAC technakohl eye pencil in "Graphblack" thanks to Miss Jaclyn Rose!!!

[Lips]
- MAC "Up the Amp" lipstick
- NYX "Doll Pink" round lipgloss

Mimi (aka d0rksta) was sweet to invite me to be part of her 100th video where she had the clever idea of having many YouTubers and makeup bloggers/guru take part and answer some fun questions! Thanks Mimi! So check it out!