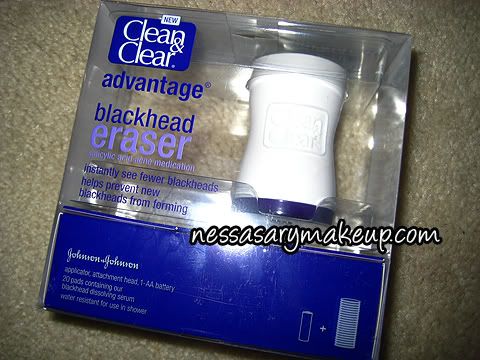 This thing was staring at me for months whenever I went into a store and I never got it because I don't have any blackheads, (but occasionally I do get whiteheads), and didn't really want to spend $16 for it given that I don't have blackheads! But after seeing Tracy's review and how she mentioned it makes a great exfoliator- it made me wanna try it myself since I was in need of one.

I know RiceBunny uses a toothbrush, but I wanted something with more surface area and this little gadget is the perfect size and conforms well to your hand so it's very easy to use. I have had a dry and rough chin for a few weeks due to the weather and the skin was very uneven and blotchy; i've been using this for just a few days and my skin after the first use was already noticeably smoother and more supple. I also noticed how even my skin felt and looked, my chin seriously feels like a baby's bottom! I am DEFINITELY IMPRESSED!

I have NOT tried the wave so I don't know how they compare, but Tracy definitely compares the two on her review on it so check it out. Frankly I like that this has a little bit more oomph (acne fighting part) rather than the wave so it's a plus for me.

Product: 5 out of 5
Packaging: 5 out of 5
Quality: 5 out of 5
Overall: 5 out of 5
Price: $16-17, any 'mart' store or drugstores
Comes with: 20-pack refill pads which contain the blackhead serum, and a battery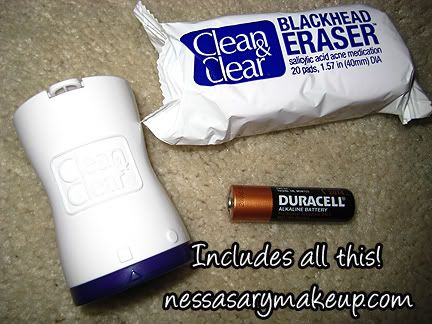 How you use it: Place the pad onto the device which is held together by velcro, wet your face or the pad (the device is waterproof, I use mine in the shower), turn on the vibrations, then in circular, upward motions do your entire face or areas that are have or are prone to blackheads to reveal smoother, clearer skin.

PROS:
- Very small and convenient, which makes it perfect to use anywhere, even for traveling
- Easy to use
- Requires a battery that you can replace, and not a built in one so you can use it over and over again
- Comes with 20 pack pads containing acne fighting ingredients as well such as salicylic acid to control and treat acne and blackeads
- They also sell refill packs in 20 (sold separately), so when you are done with your pack you can buy them for $5.99
- Immediate results! My skin is so much more softer and even.

CONS:
- None that I can think of!

Would I buy it again? Yes, at least I only have to buy the refills, but like I said, it makes an AWESOME facial exfoliator, so even if you do not have blackheads, it's great for cell turn over (sloughing off dead skin cells), to reveal more radiant and smoother skin.