Brittany from Clumps of Mascara and Kia from Yummy411 held a "Politically Pretty" Challenge in which we had to do a FOTD that is political-esque, either representing a party of our choice, or anything related.

Politics is very touchy in general, so I am not even going to talk about it, or who I am voting for sorta thing; but my inspiration behind this FOTD was America in general; our rights, freedom, etc. As much as I represent my home country (Canada, woot woot!), I LIVE in America- the United States of America, and I am PROUD to be here, and I am grateful for the things I have and what WE have in this country as citizens in comparison to some other third world countries, whose children are starving. It's definitely important to have our voice be heard.

Without much further ado, here is my politically pretty FOTD! Don't mind my lovely crooked star, I can't draw stars if my life depended on it! So it's now a nice oddly shaped dancing star! LOL.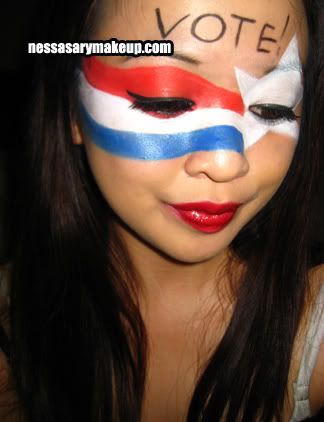 What I used:
[Face]
- Buff'd Mineral Foundation in "Chamois" (too light on me by itself)

[Eyes]
- Flag: Mehron Tropical Palette (Red and Blue), WHITE: MUFE Flash Color Pot in White (also the star)
- Outlined with NYX Jumbo Eye Pencil in "Milk"
- MAC Fluidline in "Blacktrack"
- L'Oreal Telescopic Mascara
- Ardell Luckies Eyelashes
- MAC Technakohl Eyeliner in "Graphblack"

[Lips]
- MAC l/s in "Port Red"
- MAC lip lacquer in "Fun-plastico"

Check out these other beauties that participated!

Yummy411
Clumps of Mascara
Luxe Tips
Peace, Love & Namaste
Rural Glamour
Gangstarr Girl
Silver Lips Beauty & Make-Up Haven
Makeup by Ren Ren
RocketQueen
Facepaint 101
Beauty in All Shades
Danyelle
Miss Whoever-You-Are
Life of a Ladybug
Betty Brown Beautification
Clumps of Mascara
Coup de Coeur
Diva 4 Less
My Pursuit of Happyness
I Adore MakeUp
My Makeup Blog
Blaq Beauty
Blaq Vixen Beauty
Makeup Fiend
Tracez of my Lipstick
Ish Tastic