I have answered many of your questions regarding the MAC Creme Liners vs. MAC Fluidlines, it's in the original post below. :)

This Himegyaru FOTD is the same steps used in the Matryoshka doll fotd, except I changed a few things to turn it into the Himegyaru, a Japanese fashion style. I changed the lips and cheeks, the lips are "Melrose Mood" lipstick from the MAC Heatherette collection, and the cheeks I used a bright pink color from the Auraline Blush Palette. I also used Freshlook Colorblends Contacts in "Green".

I missed Pink's contest on this one (I didn't submit it on time even though the pics were sitting in my camera), so I thought id do it anyway...there are so many fashion styles in Japan so forgive me if the last pic is not really ganguro but another form, I couldn't really distinguish all of them because frankly, they all looked the same to me!

I would never go out in public like this, lol. But I had fun doing it nonetheless. I didn't have a big old bow or a pink dress so I improvised with what I have for the Himegyaru look.

Here are some images of Himegyaru, "Princess Gal", many websites describe this style as: "The girls dress up like a princess: Their hair is baggy at the top, curled at the bottom and mostly dyed blonde or brown. Ribbons are not only adorning their hair but their dresses, too- Himegyaru's are famous for their expensive, velvet and cute clothes which are embroidered with laces and pearls."




The second FOTD is another, more well-known Japanese style, Ganguro. Usually the girls have bright blonde or white hair, but I didn't have a wig handy nor was I going to strip my hair just for a FOTD, LOL. I also wanted it to be a little more "scary" so I didn't really follow the photo to a tee.

Ganguro is described as: "In ganguro fashion, a deep tan is combined with hair dyed in shades of orange to blonde, or a silver gray known as "high bleached". Black ink is used as eyeliner and white concealer is used as lipstick and eyeshadow. False eyelashes, plastic facial gems, and pearl powder are often added to this"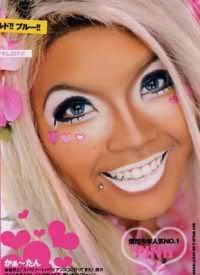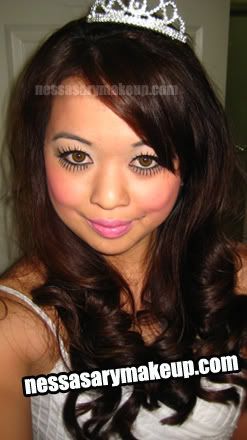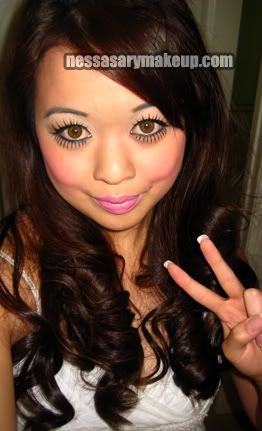 I then tried it with a big flower handband:



Dress I bought last year from Forever21 of course all WRINKLY because I sat on it...



Then to turn it into a wearable look, I simply removed the colored contacts and lower lashes: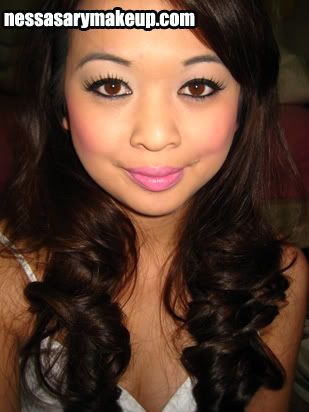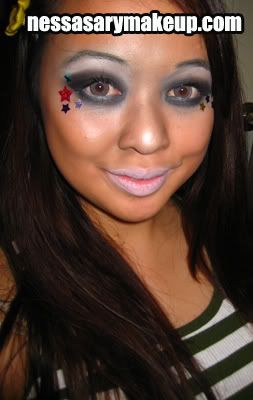 (Don't mind my undone crazy brows haha)

What I used:
[Face]
- EDM Mineral Foundation in "Light Tan"

[Eyes]
- NYX Jumbo Eye Pencil in "Milk"
- MUFE Flash Pot in White
- Smashbox Eyeshadow in "Midnight Black"
- L'Oreal Telescopic Mascara

[Lips]
- MAC l/s in "Myth"
- NYX Jumbo Eye Pencil in "Milk"