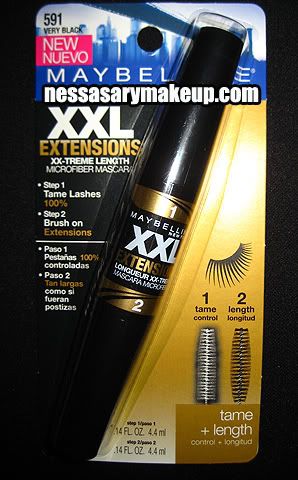 Product: 4 out of 5
Packaging: 5 out of 5
Quality: 4 out of 5
Overall: 4 out of 5
Price: $7-8, any drugstore should have it by now
Would I buy again? Yes.

I was supposed to go to the Nordy's Trend Show today, basically a fashion show for makeup, but I didn't end up going because it was too early in the morning for one thing and Saturdays are my "sleep-in" saturdays, and also to save money! I bought so much winter clothes and shoes so I didn't wanna spend anymore on makeup! LOL. I am still waiting for my Victoria's Secret and GoJane.com haul in the mail which should be arriving next week! Sweater dresses are in y'all!

The BF and I watched Quarantine last night at Universal Citywalk, the movie was disappointing- it sucked in my opinion, so I suggest saving your money if you wanted to see it, and DON'T watch it in theaters!

Anyway, on to the product review! I recently bought this mascara at Wal-Mart, I have tried their other versions (black and white packaging), and what caught my eye was the cute GOLD animal looking print it had. I am so into GOLD right now, so of course I had to snatch it up!

Not only is the packaging cute, but I have always loved the double ended wand because in the mornings I'll do my mascara once I get to work so it's easy to take along. The wands itself are a lot thinner and easier to work with than Maybelline's other versions of their XXL mascara's. It's more comb-like and easier to get into tight areas of the eyelash as well as easier to apply in general. It's supposed to help give you longer lashes or the illusion of eyelash extensions by "brushing on extensions", but I personally didn't notice that stretch of a claim. I have better results using my L'Oreal Telescopic Mascara.

PROS:
- The packaging is super cute! Easy to tote around with it's double ended tube
- Better wands, thinner, easier to use than previous versions, and gets into tight spaces
- Has a primer on one end, and mascara on the other end
- No weird funky smell
- Affordable and easy to find
- Gave my lashes a little oomph and volume

CONS:
- Did not beat my L'Oreal Telescopic Mascara :)
- Didn't really give me "extensions" like it says but gives incredible volume and fuller lashes

Overall? I like this mascara, it's definitely second to my L'Oreal Telescopic Mascara in the sense that I would bring this with me because of the convenience of having a primer and mascara in one. It did give more fuller lashes and I think it gave a little oomph in terms of length- but not a drastic one.