So Anne, Erica, and I checked out the MAC "Red She Said" collection on Thursday, and surprisingly, it didn't impress me once again. We avoided the Mineralized Eyeshadows because we have tons of them that go untouched, so no need to add onto it. The blushes "Stark Naked" and "Enough Said" are gorgeous, I think I have to go back to pick up "Stark Naked" but instead I just got "Enough Said" and "Creme d' Nude" Cremesheen lipstick. We didn't bother to take swatches since there was just so much stuff and not enough arm space haha. But there are TONS of swatches online you can find.

The lipsticks from Red She Said were ok, MAC releases many versions of red, blue-based, warm, cool, etc. Pomposity is a nice fuchsia, and easy to see why it was released with the C-Shock collection awhile back--it's vibrant! I thought I would be impressed with the Dazzleglasses since I loved "BabySparks" and "Funtabulous" when they released the Dazzleglasses not too long ago, but I didn't like 'em this time around.

The Sheer Minerals collection is a bit more promising since I think it caters wonderfully to the general audience, mineral and MAC lovers alike. The MSF's are gorgeous. I am thinking of also going back to pick up "So Ceylon", and "Petticoat" is beautiful. The Mineralized Eyeshadows included in this collection (but not featured on the MAC website) are re-promotes of some of the older mineralized eyeshadows such as those from the Antiquitease collection (Earthly Riches, Engaging, and Family Silver), and the Electroflash collection (Pink Split), BUT there are a couple of new ones (swatches can be found on the web).

We also snuck a peak at the Holiday Collection and that too, is sorta bleh to me. The packaging looks cheap and ugly compared to last year's collection. The only thing I would probably get is one of their lipstick/lipgloss sets, and MAYBE an eyeshadow palette.

Overall, I am glad that MAC hasn't been "wowing" me lately because it has been leaving me off to venture out other brands and I like the new feel for discovery. Urban Decay has been coming out with some awesome products, and that's pretty much where my money is happily going...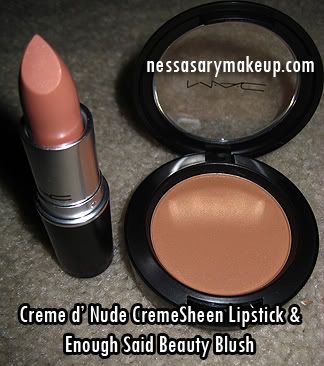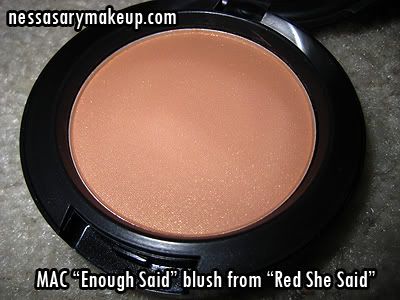 On bare, unprimed lips: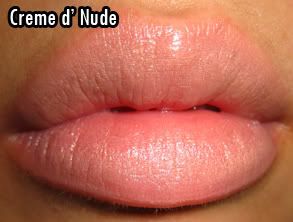 Creme d' Nude is more sheer than "Fleshpot", a good dupe is NYX "Circe".