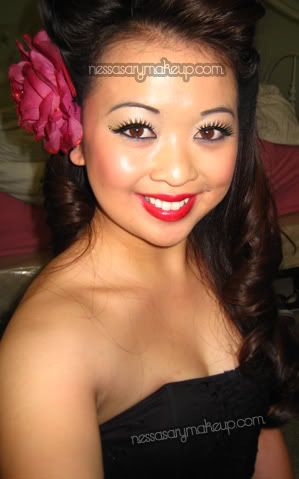 This was actually requested by my bestie Erica, and a few other gals as a Halloween look (sorry it's a bit pic heavy, it's also my main profile pic). It actually came out better than I envisioned it granted i've never played with this "era" before. I also used the MUFE HD foundation for this look. Isn't it flawless??! It just gives an awesome look! I got the flower from an accessory store (I think it was "Amuse"). The steps I used are a bit similar to the Matryoshka FOTD in the sense that I used a neutral base and falsies, but I skipped out on the thick eyeliner and falsies at the bottom for a more classic, vintage look. Since I have a beauty mark by default I didn't need to create one haha. I also used "Stark Naked" blush and "Petticoat" MSF on my cheeks.

My inspiration was actually Dita Von Teese & the model from "Red She Said". Long black arm gloves would compliment this look and make a great costume. I also did a quick video below on how I did my hair for this FOTD.

Also, someone asked me about the size of the Urban Decay 24/7 travel kit, in comparison to the original, it's actually over half the size of the original, so you get all the colors at a good price! (I'll take a pic soon).

Directions:
- Primed face with Monistat Chafing Gel, then applied MUFE's HD Liquid Foundation in #127 with Beauty Blender Sponge.
- Apply your concealer
- Apply your eye primer, I used MAC PP in "Soft Ochre".
- Sweep your lids with a neutral eyeshadow, such as patina. I mixed mine with: Patina, Soba, and Ricepaper.
- Highlighted using: Shroom or Ricepaper, Femme-Fi is good too.
- Apply eyeliner (I used Revlon Colorstay Liquid Eyeliner in Black) starting from the middle of the lid, and wing outward. Then you can fill the inner with eyeliner. I applied 3 dots at the end of the 'wing', but this is optional.
- Apply thick falsies for an elegant look that stands out. I used NYX's False Eyelashes in 101 (they are the ones that have a criss-cross pattern).
- Lined my lower lashline with Urban Decay's 24/7 Pencil in "Zero", then smudged it with a Q-tip for a smokey look.
- For the cheeks I used MAC brush #109 and applied "Stark Naked" Beauty Powder Blush on the apples of my cheeks and swept up towards me ear, then applied MAC MSF in "Petticoat" on top.
- Contoured with "Emote" blush.
- Used MAC lipstick in "Port Red" on lips, with MAC "Fanplastico" lip laquer on top for shine.

Don't mind my Tyra banks five head, LMAO!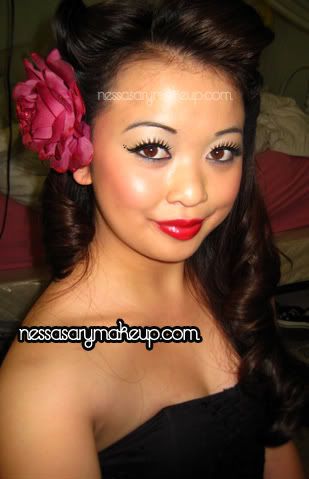 What I used:
[Face]:
- Monistat Primer
- MAC Studio Finish Concealer NC35
- MUFE HD Foundation
- MAC "Emote" blush to contour

[Cheeks]:
- MAC "Stark Naked" Blush
- MAC MSF in "Petticoat"

[Eyebrows]:
- Anastasia Brow Whiz pencil in "brunette"
- Anastasia Brow Filler

[Eyes]:
- MAC Paint Pot in "Soft Ochre" all over the lid
- MAC e/s in "Patina", "Soba" & "Ricepaper" all over lid
- MAC "Shroom" as highlight
- Revlon Liquid Eyeliner in "Black"
- NYX False Eyelashes #101
- Urban Decay 24/7 Pencil in "Zero" on lower lashline

[Lips]:
- Too Faced Borderline Anti-Feathering Pencil
- MAC lipstick in "Port Red"
- MAC Lip Laquer in "Fanplastico"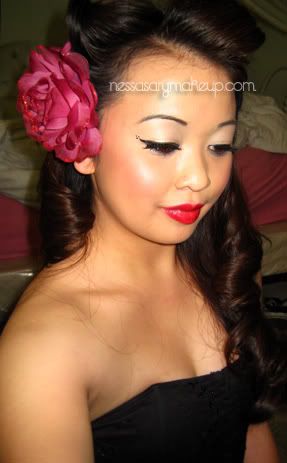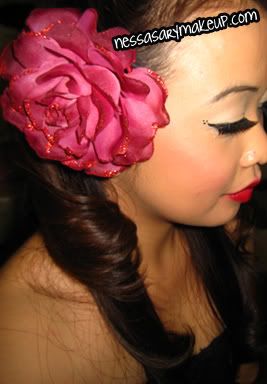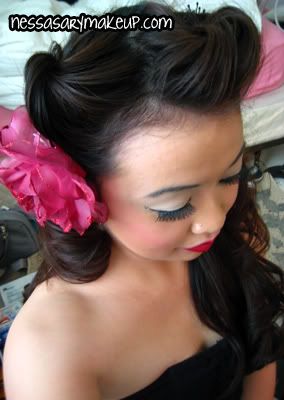 CLOSE UP OF THE MAKEUP: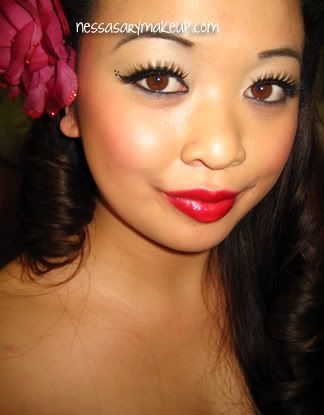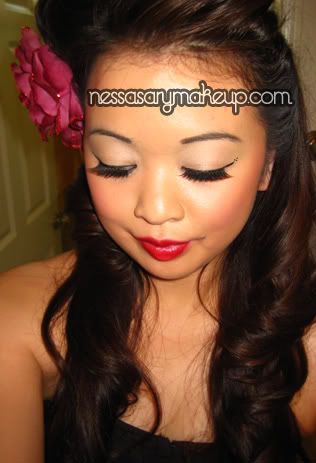 Daytime (NO FLASH):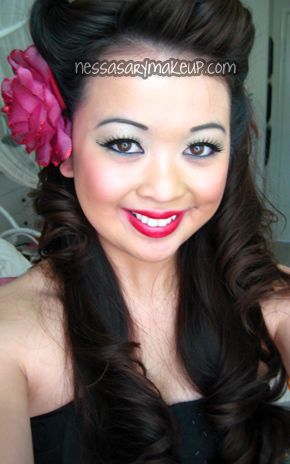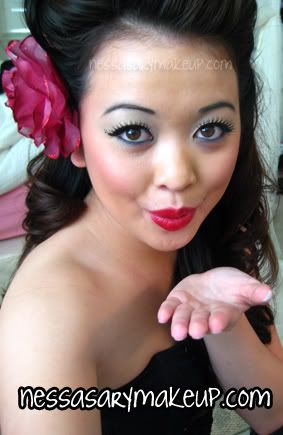 Corset worn (from when I used to work at Forever 21 like 5 years ago! LOL):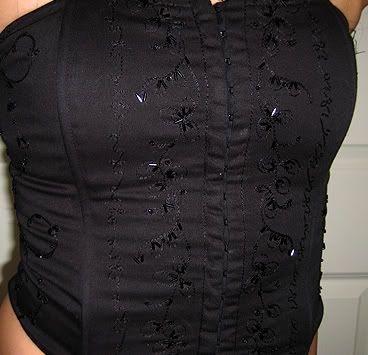 Quick video on how I did my hair: