*Image courtesy of Specktra.net

Not a lot of details have been released yet regarding the MAC collaboration with Heatherette (which is a clothing label btw), but here is a sneak peak and boy am I just loving the packaging! Reminds me of GEM with all the super cute pink packaging and gems!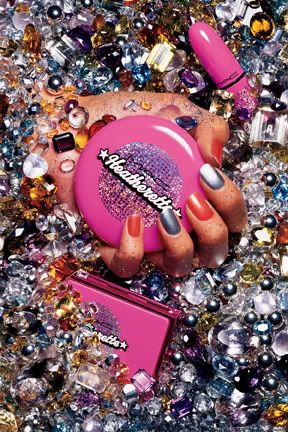 I went to the MAC store yesterday and finally got my hands on one of the Sculpt & Shape powder duos, I bought accentuate/sculpt, even though I have sculpt already, I thought it would be nice to just have in my purse rather than bringing the entire palette with me. Also it fit well with my skin tone, the bone beige/emphasize compact was nice although the highlighting powder (emphasize) was TOO white, and I mean it was WHITE! And the bone beige was more of a yellow brown. So I settled for accentuate which was a nice light shimmery peach color. The other two compacts were too dark for me.

The only thing that really grabbed my interest about this collection was the 138 brush, Anne and I tested it out at MACY'S, and I fell in love! It was super soft, and I love how unique this brush is, has a fluffy pointed tip, PERFECT for contouring and getting in those cheekbones, as there are times where my 136 brush is TOO wide for certain applications. The MUA at the MAC store said they only got 3 in their shipment and that they had no more (what the heck right!??), so we went to Nordstroms and the MUA's there didn't even know what the brush looked like! I had to describe it and they didn't even have it on display. Luckily the MUA was REALLY helpful and checked the back and sure enough....they had it! They were even shocked that we knew about the brush because they didn't and it wasn't even out on display yet. Apparently they got the shipment of the brushes but didn't put it on the counter. Thank God for the internet. We gals honestly know A LOT more than the MUA's do sometimes! So I was really lucky to get one since they were selling out like hot cakes!

The MUA said that the 138 brush is actually the only brush that will be part of the PERMANENT line! Sooooo with that being said, you ladies don't need to rush to get this brush as it it not LE. However, I must warn you, this brush was a frikkin' $52!

I know! $52 for a brush!??? Even though I AM a makeup addict, I am not usually that willing to shell out $52 for ONE damn brush. When I bought my 180 brush for $42 (or was it $45), I was already saying that it was too expensive...but I justified buying this brush simply because it was really soft and I have not found any other brush on the market remotely close to this one that's just perfect for contouring the face. I used it this morning and I love it!