I slept at 7pm on a Saturday night, what the heck is wrong with me?! I feel like an old lady. The BF calls me at 11pm, and now here I am blogging because I can't go back to sleep! And it's freezing in my house, thank goodness for fuzzy socks and down comforters!

I meant to make this the "Milani eyeshadows only" look (request by Liz) but I left my SD card at work that had the pics on them! (As I did the look on Friday), so instead i'll post the one I did today and add the milani fotd next week. (Sorry Liz!) I also added a 'coming soon' widget to the right hand side to list any upcoming posts so you ladies know what's soon to come here on the site! I hope I remember to update it. I am trying to get a video in here but i've had no time to record one yet...I know im lagging and I apologize to you gals who have submitted things to me and I haven't responded or have done your request, it's a bit hectic on my end!

I walked into a Sephora store about 2 months ago and they had a poster of this model in the window and I remember being in awe (since I love purple and blue) and kept telling myself that I wanna imitate that look. So since I couldn't go back to sleep I thought id play around with it...I didn't have much glittery things to get the lips right, so I opted for a frostier look using only pigments and added some NYX gold glitter for a little sparkle. I ended up not liking it with the eyes so I changed it to "Creme de Femme" and NYC's "Iced Orchid".

It's brighter in person however the flash of my camera tends to wash the color out. :(

Inspiration photo: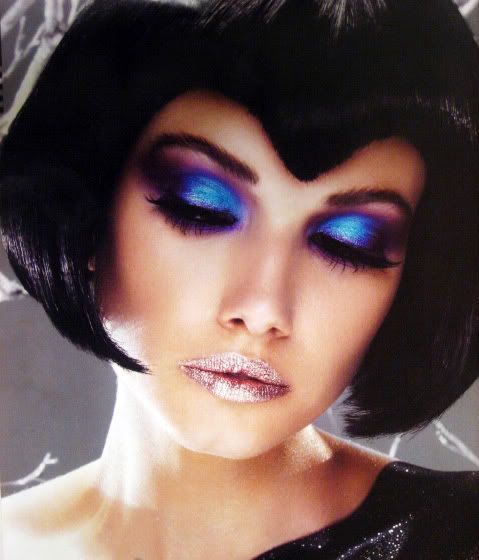 My take on it: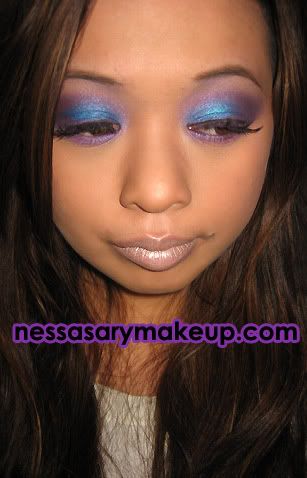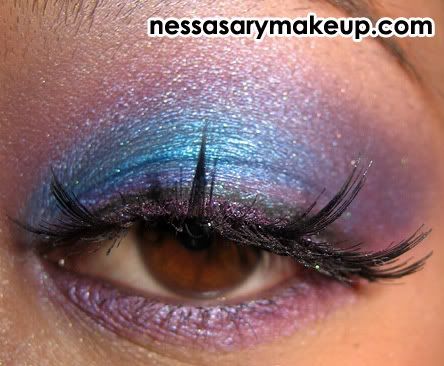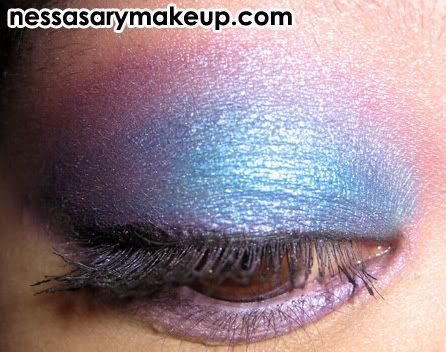 What I used:

Face:
- Mad Minerals Foundation in Medium Warm Beige (not a good match)
- Physician's Formula Concealer Duo
- MAC Sculpting Powder in "Sculpt" for contouring the sides of the nose

Cheeks:
- Everyday Minerals blush in "Waffle Cone"
- MAC Beauty Powder in "Drizzlegold"
- MAC Blush in "Coygirl" (just a touch of it on the apples of my cheeks)

Eyes:

Blue-
- MAC Pigment in "Blue" (applied wet)
- MadMinerals eyeshadow in "Electric Blue" (applied wet)

Purple-
- MAC Pigment in "Violet"
- Milani "Wild Violets" Quad (outer-V and contour)
- Milani e/s in "Shock" (lower lashline)
- MadMinerals eyeshadow in "Kunzite" (outer-V and contour)

- Revlon Colorstay Eyeliner in Blackest Black
- Maybelline Curl XXL Mascara in Black
- Ardell eyelashes
- NYX Eyebrow Powder

Lips:
- Blistex DCT Lip Balm
- Laura Geller Lip Spackle
- MAC Pigment in "Your Ladyship"
- MAC Pigment in "Dazzleray"
- NYX Loose Glitter in "Gold"