I like the Metal-X eyeshadows. They make awesome bases for eyeshadows and they can work well if you do it right. I can't really speak for those with oily lids as my skin is naturally dry at times which I assume is the reason these cream eyeshadows just "glide" and stay on my eyelids.

Like I mentioned in an older post, these eyeshadows work best when applied with your finger or a sponge tipped applicator. I like using my finger to 'warm up' the cream so it doesn't come out chunky, but rather soft so it's easy to apply. I use it in a 'press and rub' motion, after I applied it to my eyelid. I then choose an eyeshadow of similar color and apply it on top to add extra oopmh!

Here is a look I did using: Pure Ore, 6th Sin, Emerald Green Pig., Forest Green Pig. and Golden Lemon Pigment, it's very similar to my "Green with Envy" Look but MUCH MORE intense.

What I used:

Face:
- EoB Airbrush Primer
- Silk Naturals Foundation

Cheeks:
- Everyday Minerals Blush in "Waffle Cone"
- MAC Blush in "Strata"
- MAC Beauty Powder in "Drizzlegold"

Eyes:
- Metal-X eyeshadow in "Pure Ore" all over the lid (Sephora has an awesome dupe of this, it's also cream but not as vibrant, don't know the name though as my label came off.)
- Metal-X eyeshadow in "6th Sin" (lower half of lid above the crease)
- MAC e/s in "Humid" (over 6th Sin)
- MAC Pigment in "Emerald Green" (over humid and 6th Sin and lower lashline)
- MAC Pigment in "Forest Green" from the COOL EYES set (outer-V and contour)
- MAC Pigment in "Golden Lemon" (highlight)

Lips:
- MAC Lipstick in "Masque"
- Sally Hansen Diamond Lip Treatment in "Champagne Toast"

Step 1. "Pure Ore" all over the lid using my finger.




Step 2: Then applied "6th Sin" on lower half of the lid just above the crease.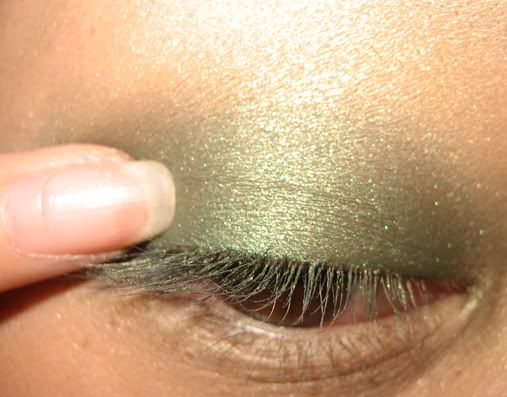 Step 3: Then applied humid and emerald green pigment.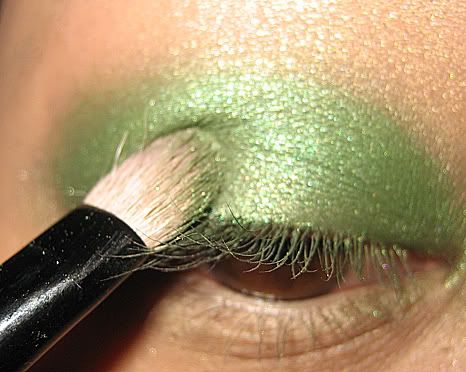 Step 4: I was able to finally use the Forest Green Pigment from the cool pigments set, I used that on the outer-V and contour...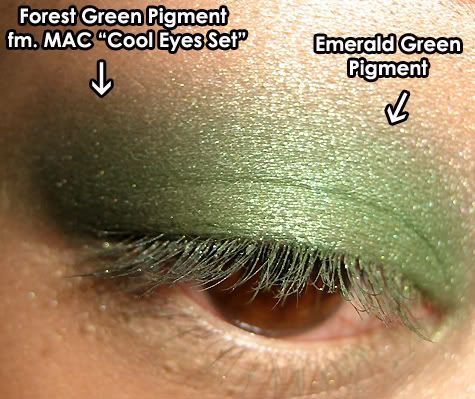 It should look like this: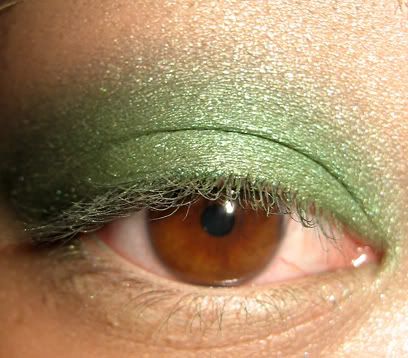 I then applied "Golden Lemon" Pigment as my highlight all the way up to the brow bone. Ladies who have purchased golden lemon and emerald green pigments from me, this look is very easy to duplicate just using those two.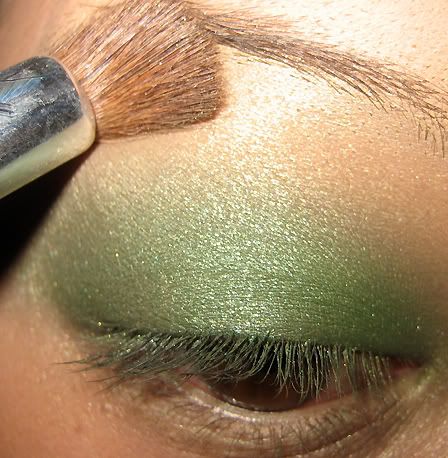 Lined: