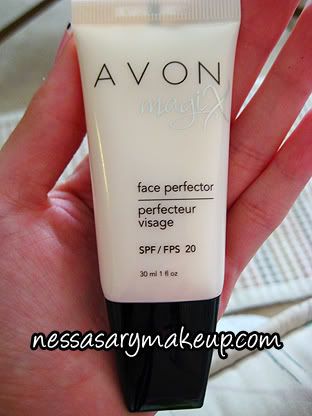 Product: 2 out of 5
Packaging: 3 out of 5
Quality: 3.5 out of 5
Overall: 2.5 out of 5
Price: $7, Avon.com
Would I re-purchase? Probably not...

What they say: "A magical new air-light gel-powder colorless formula that makes all skin tones look flawless... invisible coverage; instant perfection. This colorless formula is perfect for anyone who want to look naturally flawless and beautiful without looking like you're wearing any makeup."

Targets pores: visibly minimizes pores with patent-pending Optix Light-Diffusing Technology. Banishes Shine: holds back shine for up to 10 hours. Smoothes Skin: reduces the look of fine lines...skin feels softer than ever.
Apply evenly before sun exposure or as needed.

PROS:
- Same consistency as the monistat gel I use as primer and the Smashbox Photo Finish
- Good size for traveling
- Affordable

CONS:
- It stinks, it smells like old watermelon
- Didn't really control shine for 10 hours like it claims, my face was still shiny at the end of the day
- Don't see how this can be used as is without foundation, id rather use my Dior Moisturizer if I was trying to go for the "no makeup" look

Overall? The smell really reeks and that alone would make me NOT buy it again, I think id rather just stick to my Monistat Chafing Gel, it's the same price and works like a charm for me. I also like Camellia Rose Skin Soothing Primer.