Please pray for my mommy, dad called me last night to say she was in the hospital, apparently she has been having pains in her abdomen and they are still doing tests to see what might be causing it. They don't know if it's cysts on her ovaries or appendicitis. My mom called earlier and said she is ok but she sounded a bit tired, she said that they are just waiting for the test results, but I hope she is REALLY ok and not just saying she is so I don't worry, since I am a worry wart. My parents' health hasn't been all that great this year and I am really worried; even though they are considerably young still (they had me at 19 and 25), I know stress and just getting older has taken its toll...I just hope things get better.

On a lighter note, I got my Esca 24 lipstick holder from Folica.com. It holds 24 lipsticks all nice and neat, and I love how this is tiered so each row is elevated like stadium seating, rather than just flat rows. I like it so much I wanna order the other one they have that has a separate compartment for makeup removing rounds, q-tips, or cotton balls. They are both made out of sturdy acrylic, not cheap plastic. And the wells are deep enough to hold your lipsticks in place without falling over. It's around $14 (not including shipping, shipping is like an additional $6).

In case you are wondering, I actually had more MAC lipsticks than it holds, which is okay since I was planning on buying another one to also accommodate my NYX Round Lipsticks. I just wanted to buy one first to see how I like it before I committed to buying 2, and I love it! It makes it much easier to find my lipsticks, and when I have time I will label each 'well' so I know what color is what. I can't store the MAC lipsticks upside down since it's bullet shaped and the round tip of the tube wobbles in the well, but I have some round stickers I can use. :)

I will do the NYX swatches tonight (I promise!) I meant to do them tonight but I got sidetracked. :(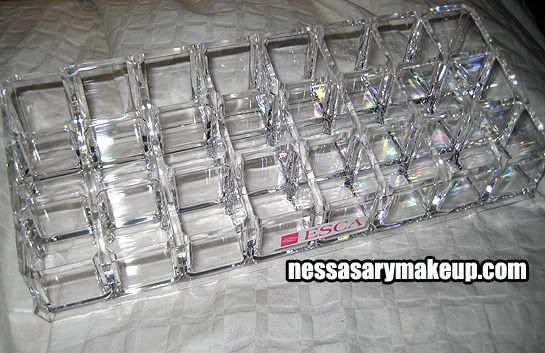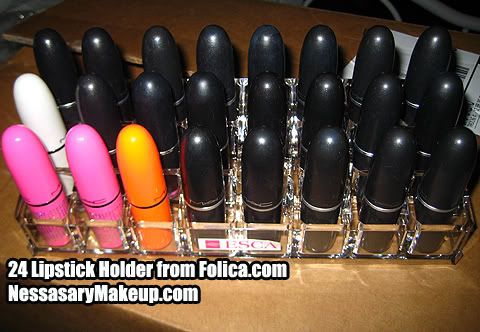 I also got this Rubbermaid Spacesaver "X-Cube" from Staples (some office supply stores have 'em), if you can't find it, Amazon.com has them too (it's a differnet brand but the exact same thing). They have an "X" shaped divider to separate things you can also store it on its side if you want. Right now I am storing my lipglosses and some of my NYX lipsticks until I get my other lipstick holder, but that box will be used for lipglosses and eyeliner pencils and the like...