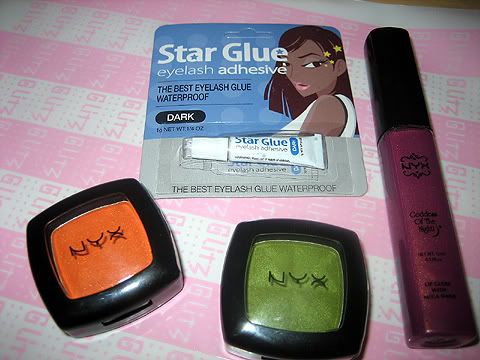 So this was my haul from today, I recently bought the cutest orange shirt with pockets and I don't own an orange eyeshadow so why not get one?? I bought "Kiwi" and "golden orange", and the lipgloss is "gold pink" although its more of a purple/deep shimmery purple color...I love it! And I bought DARK eyelash glue :)

There is a store downstairs from my work that sells NYX Cosmetics, it would be an almost perfect store if they had more of their products, they just sell the glitters, single and trio eyeshadows, some brushes, falsies, the lip/eye pencils, and blushes, but not the chrome eyeshadows or glitter liners, etc.

Also they jacked up their price about $1 per item but I just look at it like it's a convenience fee. :)

Some of you asked if I plan on buying any of the NYX Premium brushes, I don't know yet, simply because I really have a lot of makeup brushes as it is, but I might just get a couple just to test them out...hmmm oh the temptation!

And here is a pic of me and my co-worker Irina working hard!