I am watching "America's Best Dance Crew" right now, and I am hoping Jabbawockeez wins! I am going to miss seeing them on the show, and gosh are they cute! Jabba-hotties as they say! LOL.

So here is a FOTD I did today using some of the SheSpace minerals I got awhile back; very similar to also the mermaid look I did recently, but just using some of the SheSpace minerals and variations of teal. I also used "Melrose Mood" and "Starlet Kiss" from the Heatherette Collection. I am going to a Lakers game tomorrow at the Staples center with my company, our CEO got us boxed seats since we acquired another website to add to our repertoire. So you know I am gonna be rocking some yellow and purple makeup!

The color was more vibrant in person, so I apologize if it looks a bit washed out...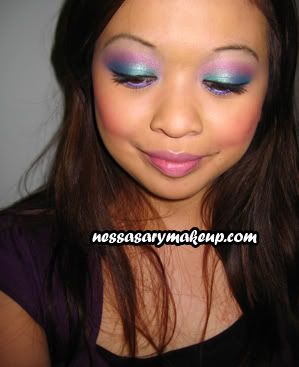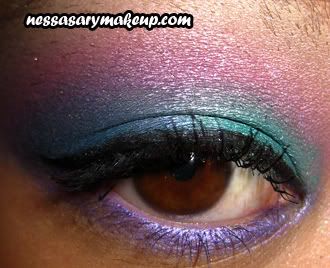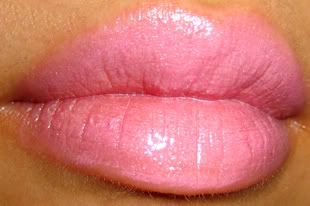 What I used:
Face:
- Monistat Chafing Gel as primer
- MAC StudioFinish Concealer NC30
- Silk Naturals Foundation in "Buttery Gold"

Cheeks:
- MAC Fafi Blush in "Fashion Frenzy"

Eyes:
- MAC PP in "Soft Ochre" as base all over lids
- SheSpace Mineral e/s in "Make Believe" applied wet on inner corners of the eyes
- SheSpace Mineral e/s in "Bed of Nails" applied wet on outer part of the lid
- KT Naturals "Cornflower" on outer part of the lid
- MAC "Fuchsia" Pigment applied wet on contour above the two colors
- MAC "Vanilla" Pigment applied dry on browbone as highlight
- MAC "Violet" Pigment applied a little on the middle of the lid and wet on lower lashline
- Revlon Colorstay Eyeliner in Black
- Tiffa Mascara Base
- L'Oreal Telescopic Mascara

Lips:
- MAC Melrose Mood lipstick
- MAC Starlet Kiss Lipgloss