Reader Kristen asked what my top 5 beauty must haves are from different brands, so I listed my FAVORITES that I just absolutely love from each one!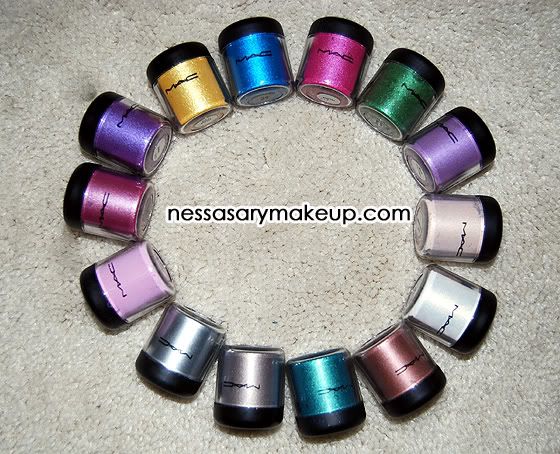 MAC:
1. MAC MSF's (all of them!)- They are great for highlighting the cheekbones or for an all over color.
2. MAC Pigments (again all of them!)- I LOVE MAC Pigments, they are awesome quality, and heck there's enough in a bottle for you, your daughter, AND your grand-daughter! LOL. They also have a wide variety of colors to create any look and the best part is that you can use the pigments ANYWHERE, eyes, face, body, etc. My favorites are: Violet, Vanilla, Your Ladyship, and Emerald Green (PRO).
3. MAC Eyeshadows- in "Shale", "Nocturnelle", "Beautiful Iris", "Hepcat", "Vex", "Silver Ring", and "Cumulus" are among my favorites.
4. MAC Lipsticks- I love their lipsticks, and since they have a lot of pink lippies (my fav can you tell?!), I love "Snob", "Scanty", "Fun N' Sexy" "Show Orchid" (PRO), and "Myth".
5. MAC StudioFinish Concealer NC30 and Lip Erase (PRO)- I LOVE their concealer! I use this baby everyday and does an awesome job at hiding my dark circles and flaws. It would be perfect if it stayed on all day, but it lasts me FOREVER! This little pot really lasts and at first I had my doubts but one lasts me 6 months! And lip erase, you know I love it!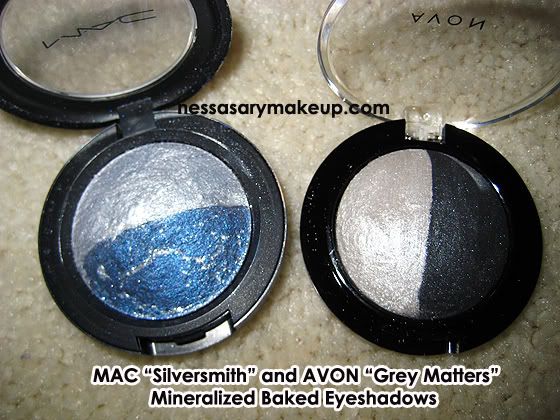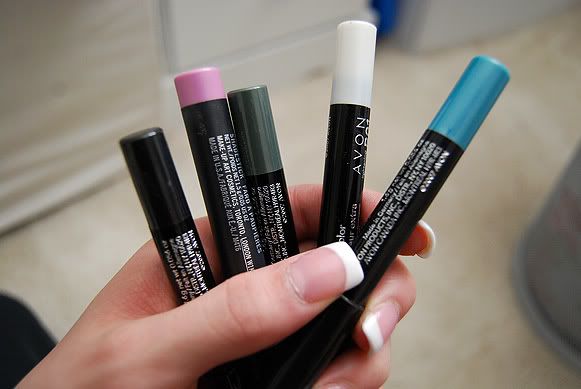 AVON:
1. ULTRA ColorRich Lipgloss with SPF15- For those of you who are used to seeing my FOTD's, you know how much I love AVON lippies! I love these lipglosses because they are shiny, smells and has a nice taste (not that I am eating it!), and the colors are so vibrant! They give just the right amount of color and they moisturize my lips!
2. Satin Eyeshadow Duos- Similar to the MAC Mineralized Eyeshadows from the holiday collection, these are awesome dupes and they are really cute and very pigmented!
3. Instant Manicure Nail Strips- These are like nailpolish stickers that you peel and stick on your nail (also works on acrylics), and they are basically a quicker way to paint your nails without all the mess or drying time. Comes in a variety of colors and it's very easy and fun to do! Lasts 14 days.
4. Glazewear Lipstick- Similar to MAC Slimshines, pretty good dupe...
5. AVON Jumbo Eye Pencils- Reminds me of the MAC Shadesticks, gorgeous vibrant colors that stand out!




NYX
1. Single Eyeshadows- These babies are more bang for the buck! I actually compare them to MAC eyeshadows because they have a HUGE selection of colors AND they are really pigmented! My favorites are: Rust, Golden Orange, Luster, Hot Pink, and Blondie.
2. Lipglosses- I love their lipglosses, both the brush and sponge-tipped ones, my favorites being: "Barbie Pink", "Golden Pink", and "Beige".
3. NYX Round Lipsticks: I love how pigmented and moisturizing these are! I really love these lipsticks and these too come in so many awesome colors. My favorites are: Rea, Pandora, Thalia, B52.
4. NYX Chrome Eyeshadows- Cheaper alternative to MAC Pigments but NOT the same texture as these are more of a flour-like consistency, also comes in a wide array of colors, can be applied wet. My favorites are: Sunny Day, Geisha, and Goddess.
5. NYX Trio Eyeshadows- Lovely colors in one palette!




Urban Decay
1. The bright eyeshadow palette (purple box)- Gorgeous colors, and VERY pigmented! Great color payoff!
2. UDPP (Urban Decay Primer Potion)- Perfect eyeshadow base, also makes other eyeshadows more vibrant.
3. UD Single Eyeshadows
4. Colored Liquid Eyeliners- Makes your eyes pop for a nice funky look!
5. Pretty much everything else from this line!




MakeUp Forever
1. Single Eyeshadows- Can we say the most pigmented eyeshadows ever to walk this earth???!
2. False Eyelashes- They have the best over-the-top eyelashes that have appeared on the catwalk, great for Halloween or photoshoots and a wide variety!
3. Mat Velvet Foundation- Great coverage, and not heavy at all!
4. Lift Concealer
5. Mist + Fix

PureLuxe
1. Mineral Eyeshadows- GORGEOUS, vibrant colors! I have done a lot of FOTD's with some of their eyeshadows, and I am more and more impressed! My favorites of course: Sour Apple, Blue Jeans, English Ivy, Peridot Stone
2. Calamine Facial Soap Bar- Reason for my clear skin? This baby right here!
3. Moisturizing Spritzer- I love the refreshing feeling this gives me and how supple it makes my skin feel.
4. Eraser (primer)- Really creates a smooth canvas before makeup application, whipped-gel like texture, this is my second favorite primer next to Camellia-Rose's skin soothing primer.
5. Cleansing Oil

Everyday Minerals
1. Blushes- I LOVE, LOVE, LOVE their blushes, it is by far my favorite products from them. I love the colors and the vibrancy of it. My favorites: Weekend Getaway, All Smiles, and Waffle Cone.
2. Makeup Wipes- Huge and organic!
3. Eyeshadows- Nice colors and pigmented!
4. Brushes- They have some really decent mineral makeup brushes.
5. Lipglosses- Chapstick form in a tube, very moisturizing, my favorite: Siesta lipgloss.


Other beauty favorites:

- Milani eyeshadows- the old school single ones, the new wet/dry ones...
- Milani Blushes- Gotta love "Luminous", NARS "Orgasm" Dupe...
- Covergirl Single Eyeshadows are pretty pigmented!
- Palladio Lipglosses and Eyeshadows
- ECO Tools, Sonia Kushuk, Essence of Beauty brushes are awesome quality at a great price!
- Ardell Lash & Brow Growth Accelerator