Haha some of you said "Welcome Back" on my last post, but I am STILL here in NY, those were just some pics I took so far...but nope still here until Thursday.

Anyway, I wanted to do some crazy makeup, so I did yellow and fuschia last week and it actually looked cool in person...but yeah it's one of those looks you find yourself doing once. I used some of the NYX Chrome Eyeshadows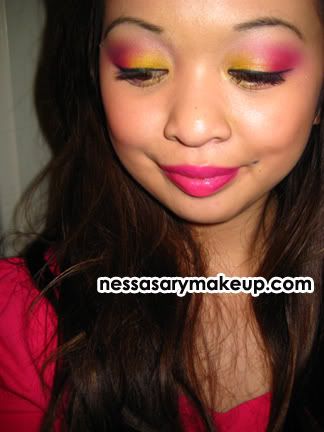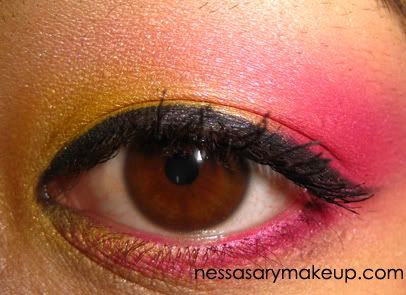 What I used:
Face
- Monistat Chafing Gel (as primer)
- Meow Cosmetics Primer Powder
- MMBB Silk Naturals in "Medium Beige"

Cheeks:
- MAC Blush in "Fashion Frenzy"

Eyes:
- MAC PP in "Soft Ochre"
- NYX Chrome Eyeshadow in "Yellow" on inner half of lid
- MAC Eyeshadow in "Chrome Yellow"
- NYX Chrome e/s in "Sunny Day" (pink) on outer lid and contour
- MAC Pigment in "Bright Fuchsia" on outer-V
- MMBB e/s in "highlight" as highlight

Lips:
- MAC l/s in "Show Orchid"
- Lancome Lipgloss in "Seashell"