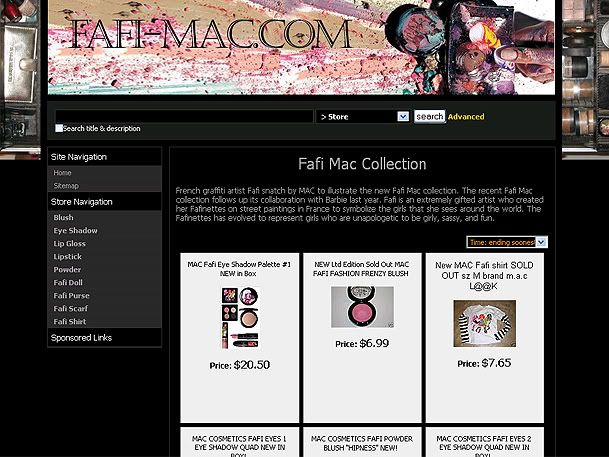 Are you a MAC addict? Or are you a blossoming MAC addict barely new to the scene and have a lot of catching up to do with the collections MAC has been releasing left and right? I know for me, I started getting into MAC when the "C-Shock "collection came out, and then from the "Smoke Signals" collection it went downhill from there as I was hooked! I was disappointed that I missed out on the coveted and popular "Barbie Loves Mac" collection because I really wanted to get my hands on the "Real Doll" lipstick which is now selling for an absurd price of $80+ on eBay!

Back in February, MAC released the "Fafi" collection which was critically acclaimed to be a follow-up of the infamous "Barbie Loves MAC" collection by a French designer Fafi who created "The Fafinettes", cute and sexy colorful vixens who always wore the boldest colors and the trendiest styles. Fafi's creativity and imagination has captured the attention of many and as a result, she collaborated with well known brands such as Adidas, LeSports Sac, and MAC Cosmetics. The products released in this collection were dazzling and each piece definitely had a touch of the classic "Fafinette Style".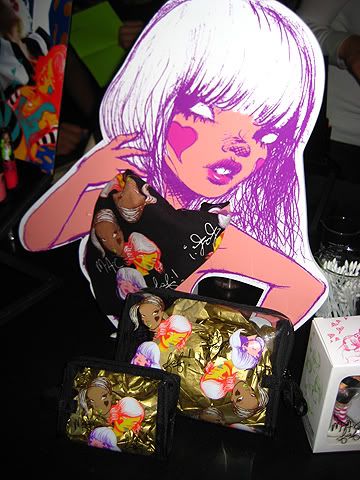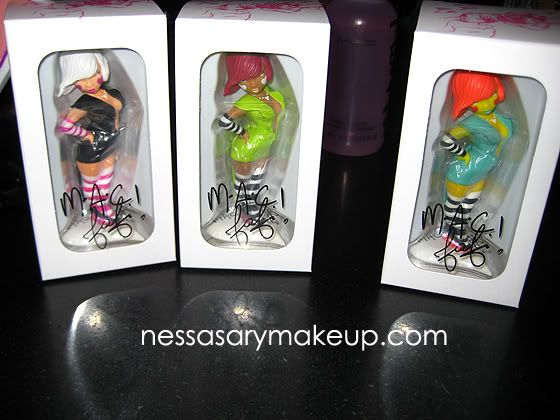 The Fafi Collection had MAC addicts in a frenzy as it included: two 4-pan eyeshadow quads, 2 iridescent powders in "Delightful" and "Verve-acious", 2 blushes: "Hipness" (a peach/coral matte blush) and "Fashion Frenzy" (a medium matte pink blush); 6 gorgeous paint pots: "Layin' Low", "Cash Flow", "Perky", "Nice Vice", "Rollickin'", and "Girl Friendly"; lip glosses in "Cult Fave" (which was really a fav!), "Totally It', "Squeeze It" and "Sugar Trance", all to compliment the fab lipsticks: "Utterly Frivolous", "Not So Innocent", "Strawbaby", "Fun N' Sexy", and "High Top; a clear Fafi bag, a scarf, long sleeved shirts, and the cutest stand-up dolls. This was definitely a collection that had something for everyone.
Did you miss this collection? Or did you love this collection so much you wish you stocked up on some of your favorite items? Well look no further, you can get all your lovely must-haves here at: Fafi-Mac.com, a website that has ONLY and ALL the items from the Fafi collection, just click on the picture of the item you want and it takes you directly to the seller's store on eBay without you having to rummage through various sites to find every little thing; this place is a one-stop shop for all your Fafi needs! The best part? The price! All the items are reasonably priced, which is very rare considering how older MAC collections go sky high in price on eBay because of its "rarity", but NOT with this site! So it's not too late to be a Fafinette too, get all the items you missed out on or even the items you want "back ups" of. Hurry! You don't wanna miss out on this collection again!