It's been such a LONG day! The adventure started at 1pm, I picked up fellow blogger and real-life friend Anne from her house, we then drove to the Camarillo Outlets to pay a visit to the CCO (see side panel for abbreviation definitions) where we had fun listening to my GPS actually say the street names out loud, LOL. Luckily there wasn't anything worth buying at CCO, so I just came out with a lipstick "Curtsy" which I have been looking for! We then went to Claire's and bought a few things, I bought a cute white summer purse [pic coming soon!].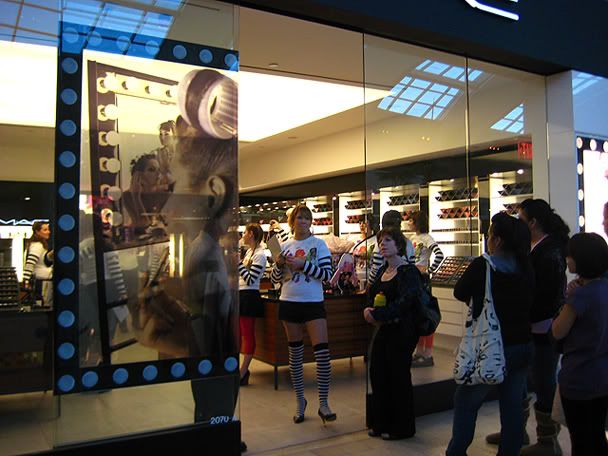 We then went back a bit early to beat traffic and to avoid being late from the Fafi Event. We got there and the MAC store itself was closed off to the non-invitees, they even had a security guard at the door. A line of people were already forming outside the store. My gorgeous friend
Chastity
also came to the event. Anne, Chastity and I were really excited! All the MAC girls were dressed in true Fafinette attire, and there was a real-life Fafi doll who was just too cute for words! There were TONS of people in the store, and they had guys serving appetizers and beverages.
I tried to take some swatches, but then my arm started getting itchy (I tell you im allergic to a lot of things), so I had to take it off quickly with a MAC wipe!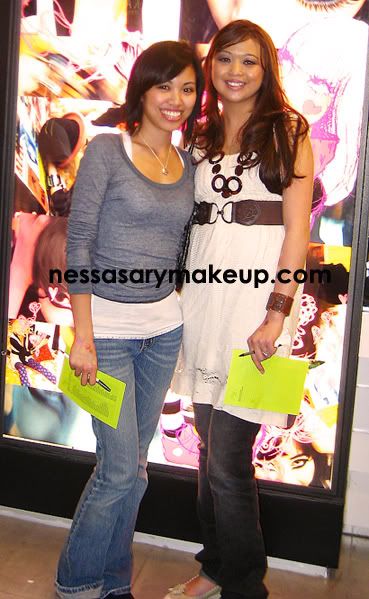 If you've never been to a MAC Event before, they give you a list of the products on a piece of paper and a pen, then you just write down the quantity of each item and give it to a makeup artist who will then get you all your items on your list, then you wait for your name to be called and then you just pay for it!

Here are some pics from the event: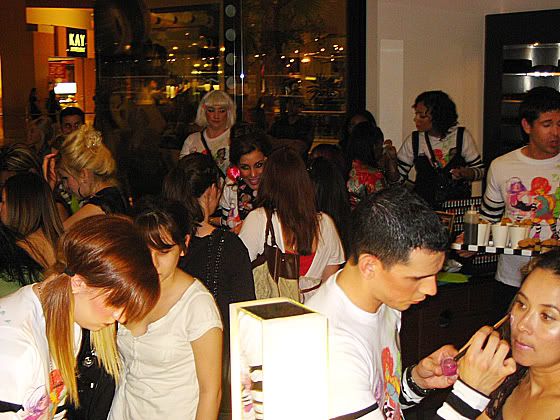 And yes her girls were out there! :)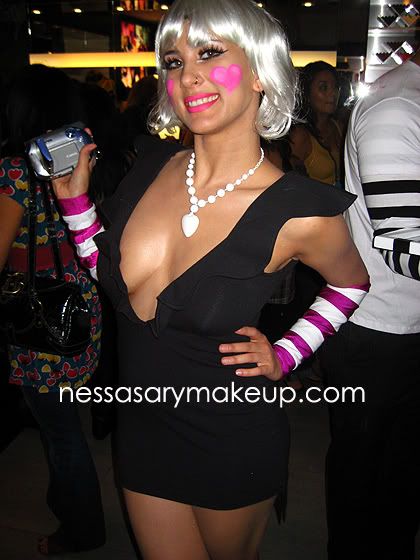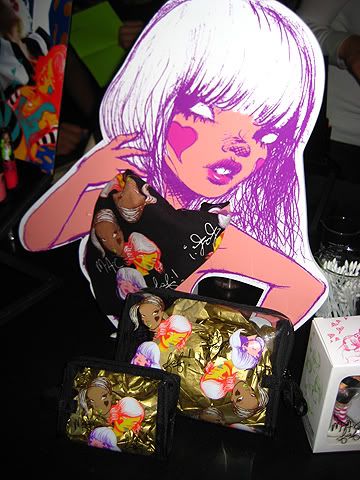 The DOLLS: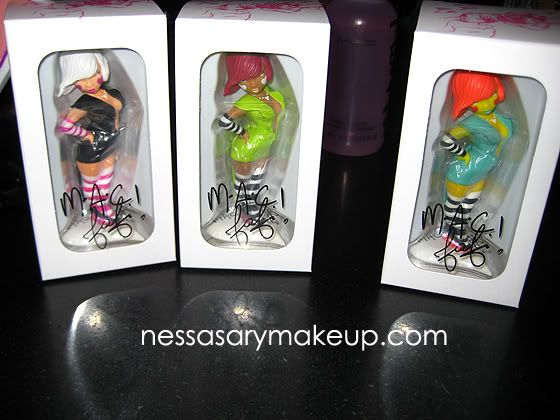 Anne's BF dying to get out of there, LOL: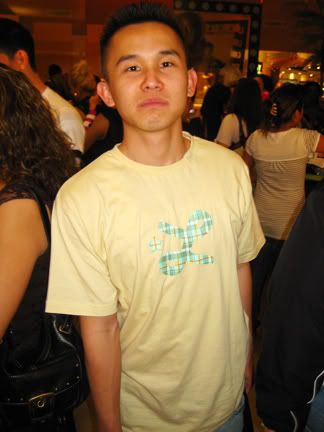 Chastity waiting for her name to be called to be rung up: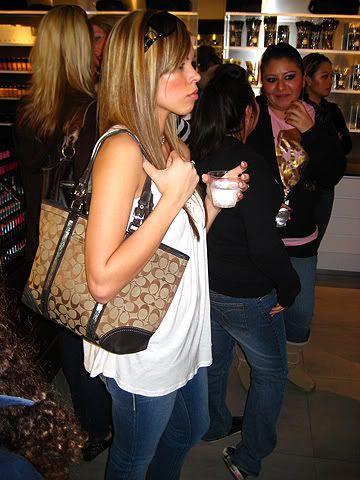 Anne is fearful of the Paparazzi: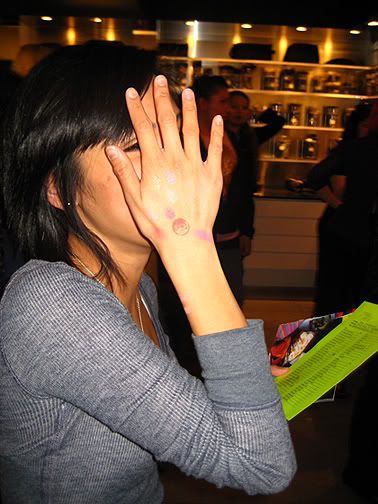 Look how CUTE the bags are!
In each bag we were given a booklet/poster with a little cd...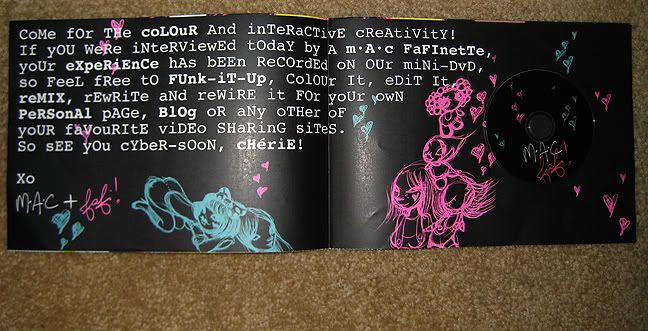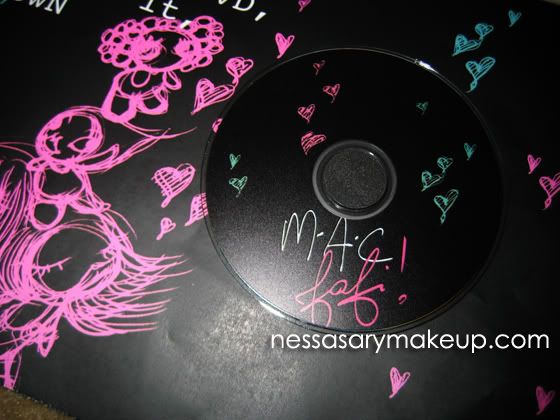 There was also a FAFI WALL in which you can tag, so of course I had to leave my mark!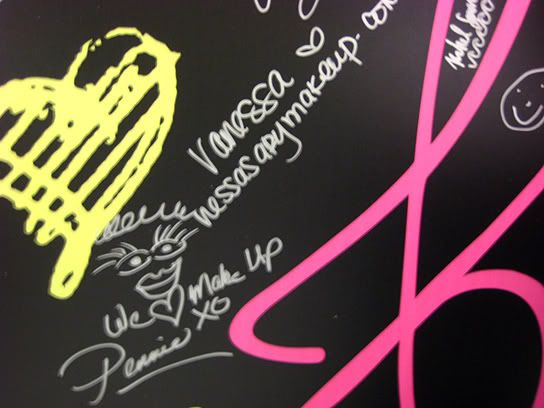 ______________________________________________________________________________
FAFI REVIEW:
- From earlier swatches I've seen online (those who saw it early at the PRO store), I was NOT impressed. Either I have similar colors, or they were colors I would never really wear. I gave it the benefit of the doubt though, telling myself that perhaps it'll be different once I see it for myself. NOPE.
This collection did
NOT
impress me, and based on what I hear from some of you ladies, many of you were not impressed either. I am glad as I saved some money! I ended up walking out with the
"HIPNESS" Blush, Paint Pot in "Cash Flow", and "Fun N' Sexy" Lipstick
from this collection, yes another PINK lipstick! I am still debating on this lipstick, not sure if I love it or hate it yet. I think I might return it because it has
GLITTER
, and I HATE GLITTER. I need to stop buying pink lipsticks, LOL. I agree with
Christiana
, I have a lot of pink lipsticks! I LOVE PINK, so I am hoping Heatherette will satiate me.
I also took advantage of BACK2MAC, in which you give them 6 empty MAC packaging (it can be anything, even depotted eyeshadows), and you get a FREE lipstick, so I also got "Myth".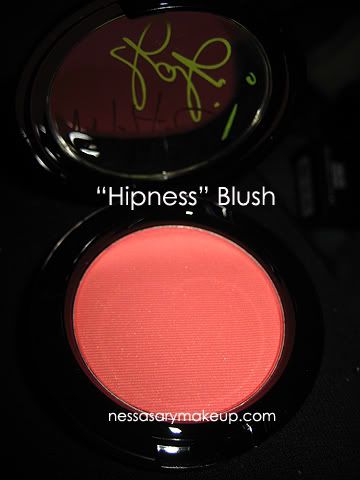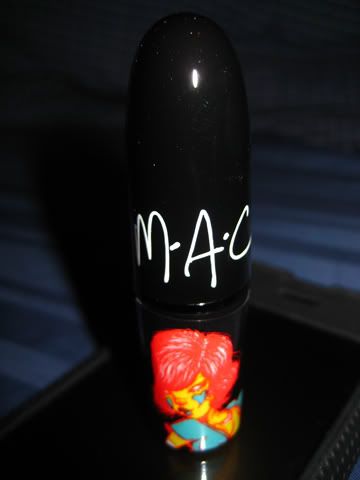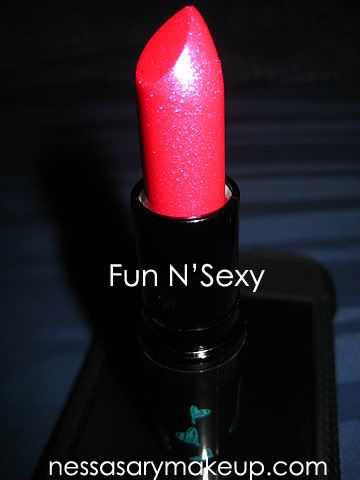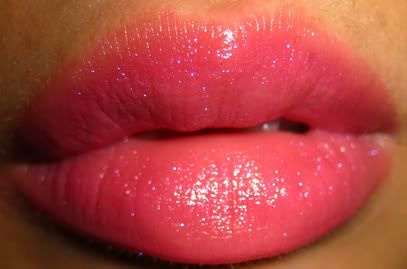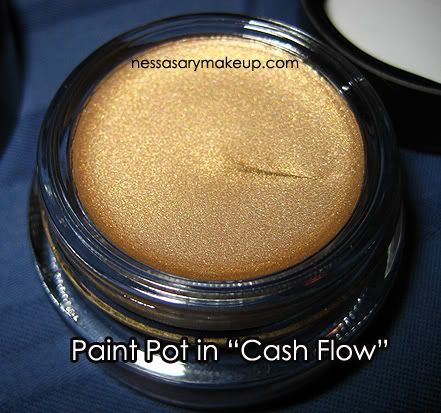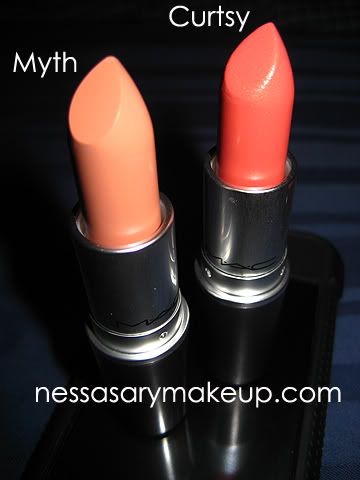 ***SWATCHES PHOTOS COURTESY OF CHRISTINE FROM Temptalia.com.