So I am sitting at my desk doing my morning routine when all of a sudden I hear "Delivery from Romeo" (in case I forgot to mention, my boyfriend's full name is Romeo Jon) he HATES the name Romeo, so he goes by ironically a typical name, Jon.

Then I get these....the tulips were a bit tilting on one side due to it being so smushed and compacted in the plastic, but now it's standing right side up!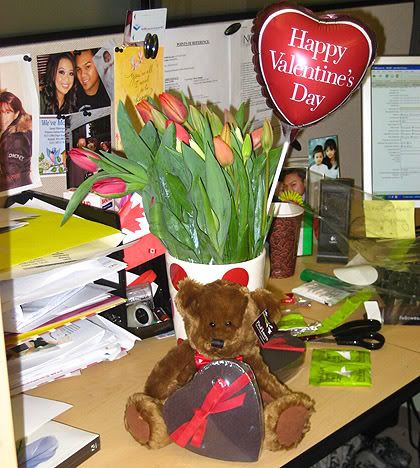 He is so sweet (given he is not an all-out romantic), so I was so elated. :)
Of course my parents called, my dad wishing me a Happy V-day, I asked him if he would be my Valentine but he said "I thought Megan was your Valentine", and I told him "Yeah but she didn't sound all that excited". LOL

Then of course got the unavoidable questions, first "So when are we getting grandkids?" and I said "Not anytime soon but we sure are having fun practicing". (jokingly just to see what she'd say) LOL, she was like WHAT!? all speechless, then she says "So when are you getting married?"....lol. I did the "oh mom got another call, I gotta call you back later".
Works everytime.....lol.