A reader requested a FOTD using Milani's "Mai Tai" Blush, so here it is, sporting my new orange and white striped shirt I got at Ross for $6! I love Ross! I go cheap on everything else but makeup (and my family), LOL how sad is that???! But I swear, you can find awesome deals at Ross! I love cheap buys! :)

So I LOVE the "Mai Tai" blush, to me it's a dead ringer for the Hipness Blush, well good enough for me anyway...And I love how smooth it goes on using my new CVS powder brush which reminds me of the Japonesque brush.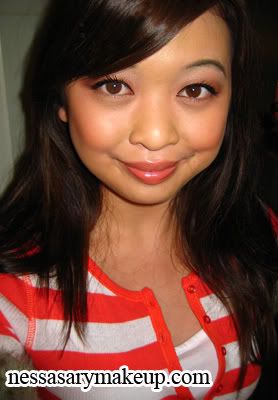 What I used:

Face:
- Pure Luxe Erase as my primer
- MAC StudioFinish Concealer NC30
- Silk Naturals Foundation in Buttery Gold

Cheeks:
- Milani Blush in "Mai Tai"

Eyes:
- NYX single eyeshadow in "Golden Orange" (also on outer corners of lower lashline)
- L'Oreal HIP Pigment in "Progressive" on Outer-V and contour
- MAC e/s in "Patina" and "Mulch" on outer V and crease
- Milani "Beach Sand" as highlight (applied dry) and a lil bit of MAC "Your Ladyship" Pigment
- Revlon Colorstay Eyeliner in "Black"
- L'Oreal Telescopic Mascara

Lips:
- MAC Lipstick in "Curtsy"
- AVON Lipstick in "Nude Pink"
- AVON Lipgloss in "Nude Peach"