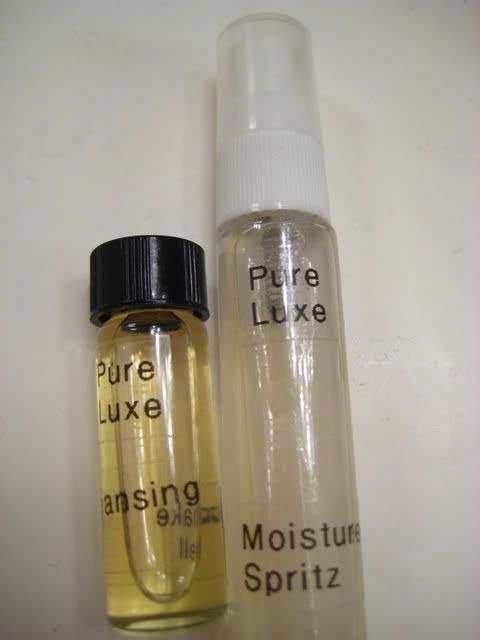 Product: 4 out of 5
Packaging: 4 out of 5
Overall: 4 out of 5

Sorry for the delayed post, I have a huge headache that won't go away!

What it does: The Pure Luxe Cleansing Oil is an alternative to the Oil Cleansing Method in which you wash your face with oil to remove the dirt but also keeping the necessary oils in your skin. Often times when I wash my face with soap it makes my face TOO dry and I get that "tight" feeling, but the oil cleansing method cancels the dryness. The Moisturizing Spray is just a simple, easy spray you spritz on your face and let it just absorb into your skin. When you over-clean your face, you take out the skin's natural oils that you need, therefore allowing more bacteria to harbor in your pores causing a pimple. Using the oil cleansing method (in which you clean your face obviously with oil), you remove the dirt/makeup AND moisturizing your skin.

What I like about it: The Oil and the moisturizing spray smells nice, like a lemony scent, but can remind some people of Lemon Lysol but nothing extreme. The oil feels great on my skin, and paired with a hot washcloth on my face, I almost feel like I am in a day spa getting a facial! It really made my skin soft and I love how I wasn't drying my skin preventing any acne or pimples. The moisturizing spray is great for traveling too, it comes in a pump and you just spray and go. Just spray it evenly all over your face and just let it absorb into your skin, no rubbing required.

What I didn't like about it: I think because I got a sample of the oil, it came in a vile that did not allow me to control the amount of oil I needed and on top of that trying to screw the lid back on with one hand! If there was an easier way to dispense the oil (spray form or something of the sort) then it would be a lot easier for me anyway.

Overall? I would definitely buy it again and make it an addition to my skin regimen which consists of a mix of Philosophy's Purity Cleanser and Pure Luxe's Calamine Soap Bar. If you are interested, check it out here: www.PureLuxeCosmetics.com.