Man I love days when I am off! I had this whole entire day to myself! (BF had work, neener neener!) So I woke up early this morning to my mom blowing up my cell phone, then she realized I was trying to sleep in and felt bad so she said she'd call me later, but of course I couldn't go back to sleep...so I just had me some yummy oatmeal cookies and started getting ready for my field trip to the MAC Pro Store!

Shayne, Mandy, Diane, and Genevieve, I ordered more jars which should be arriving hopefully this week, I will send your MAC Pigment Samples then! :)

I did another GREEN look (I love green!) using the new Milani wet/dry eyeshadows I bought from CVS, for this look I used "Shamrock" and "Bronze Doll". I love these eyeshadows! They have phenomenal color-payoff and they are so pretty both dry AND wet. (I used it wet for this look). I have always loved Milani, even before their new look/collection. I loved them so much I went back to CVS to get more colors!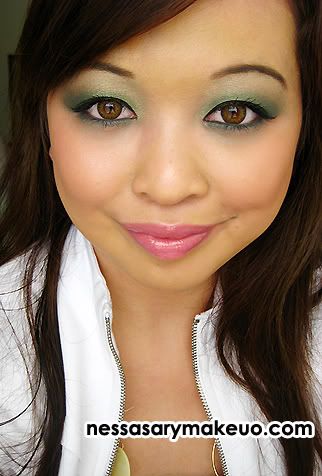 Doesn't this pic look like I have short hair!?? I kinda like it, I think oneday I just wanna get some balls and just chop it off to a nice short bob, whatdya think?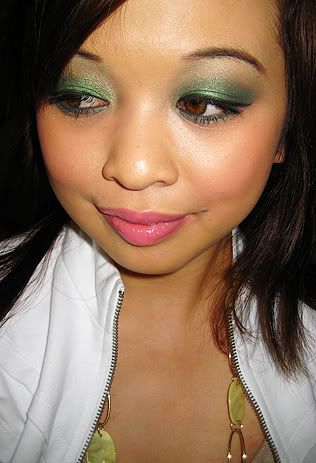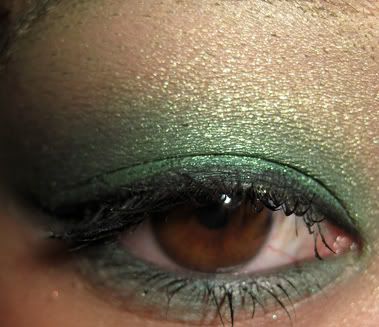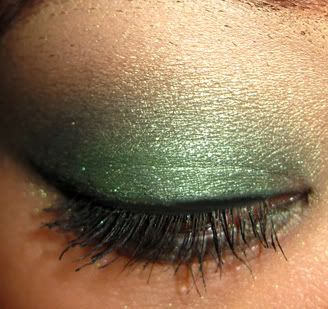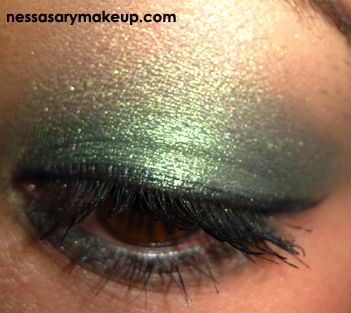 My outfit to match! I bought this like 2 years ago and I still wear it! Forgot where I got it from...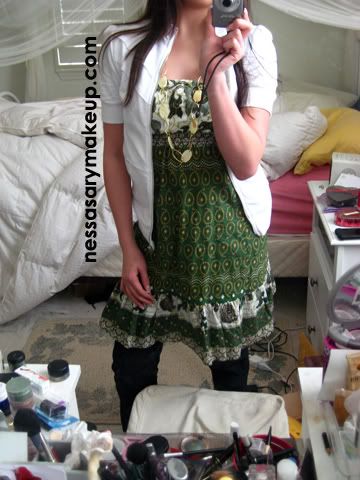 I used MAC Paint Pot in "Cash Flow" all over the lid as a base and applied"Shamrock" wet on the lid just above the crease, and then contoured it with "Bronze Doll" (dry).

What I used:
Face:
- Physician's Formula Tinted Concealer
- StudioFinish Concealer NC30
- Silk Naturals Mineral Foundation (buttery gold)

Cheeks:
- EDM Blush in "Weekend Getaway"
- Milani "Luminous" Blush
- MAC Beauty Powder in "Drizzlegold"

Eyes:
- MAC Paint Pot in "Cash Flow" (all over the lid as a base)
- Milani Wet/Dry Eyeshadow in "Shamrock" applied WET on the lid just above the crease
- Milani Wet/Dry Eyeshadow in "Bronze Doll" contoured right above "Shamrock"
- Nixie Liquid Eyeliner in Black
- L'Oreal Carbon Black Telescopic Mascara
- AVON Jumbo Eye Pencil in "Celadon" on lower lashline

Lips:
- NYX Lipgloss in "Beige" (it's NOT beige! it's PINK but they call it Beige)