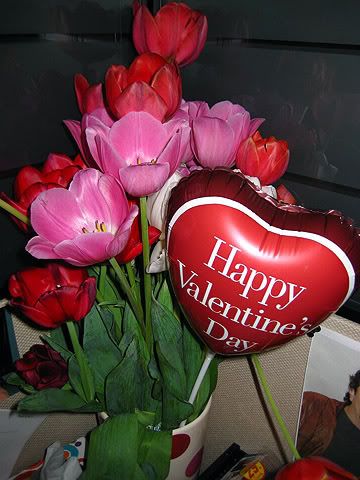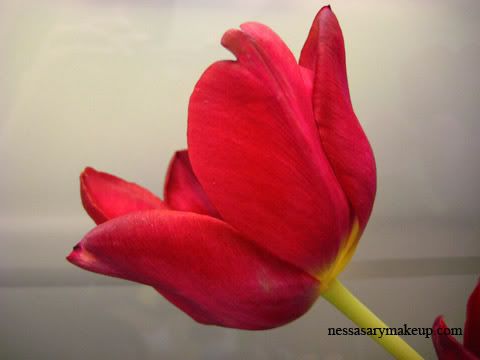 After having a long weekend, I get back to my desk this morning and my tulips have blossomed! They are so pretty!
I had a lot of fun at the
MAC Pro Store on Robertson Blvd
., sound familiar? That's the infamous street where all the paparazzi lurk waiting for celebrities to come out of shops and cafe's. Luckily there was no chaos yesterday, so it was nice and calm around Beverly Hills.
I even got awesome parking, right in FRONT of the store! I swear I felt like I was in heaven walking in there, SO many products, every color and product you can imagine! I was in awe by how many things they had!
Some of you asked me about the difference between MAC PRO, MAC Freestanding Stores (the regular MAC stores in your local mall), and the ones in department stores such as Nordstrom's and Macy's. So here is the breakdown, it
MAY vary from State to State
:

Department Store MAC's:
They have
LIMITED
items, they
DO NOT
sell pigments, brushes (only the ones that come out with a collection), mixing mediums, PRO colors, palettes, refill pans, chrome cakes, lip erase, etc. They just sell eyeshadow pots, concealer, lipsticks, lipglasses, blush pots, skincare, cleansers, foundation...
MAC Freestanding Stores:
They sell the palettes, refill pans to put in the palette, full range of brushes, accessories (sponges, jars, eyelashes), pigments (not PRO pigments), as well as everything mentioned above. You can also return items bought at a MAC Freestanding Store to a PRO store and vice versa.
MAC PRO Stores:
They have EVERY MAC Product imaginable! Mixing mediums with alcohol, gel, water, for the body, eyelash, multi-purpose (like foiling pigments), all the pigments (inc. PRO), PRO lipstick and Eyeshadow shades, newest collections, accessories, brushes, eyelashes...the reason MAC PRO items cannot be purchased online is because it's designed for those who are true makeup artists, going to school for it, and/or those who contribute to the makeup industry such as photographers, models, actors. But you can still buy PRO things in person at the store or the 800 number on the macpro site. There is no difference in price, the pigments are the same all the way around, for some weird reason certain colors are PRO while others aren't (for every MAC product) I have no clue why...lol. PRO stores just offer more in terms of color range, variety, and quantity but prices are the same, so for example there is no difference in price between a regular lipstick or a PRO lipstick.
They already had the
new Beauty Powder Blushes out
, I didn't walk out with any because the colors seemed whatever to me or they were similar colors to some blushes I have...although I think I liked two of them. Sorry I didn't get any of the blush names, I didn't want to get caught with my camera!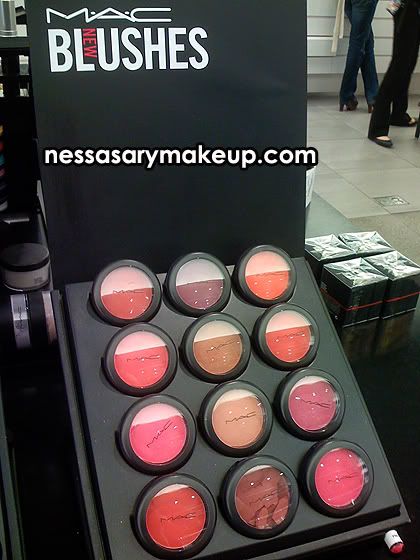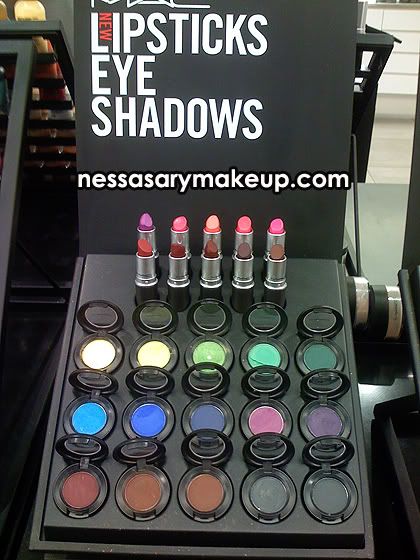 Chromeacakes (PRO only, used for theatrical makeup, fake tattoos, etc by professional makeup artists):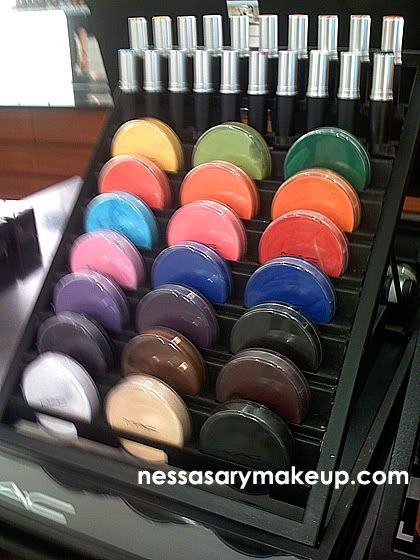 Being stuck in traffic for MAC was well worth it, LOL!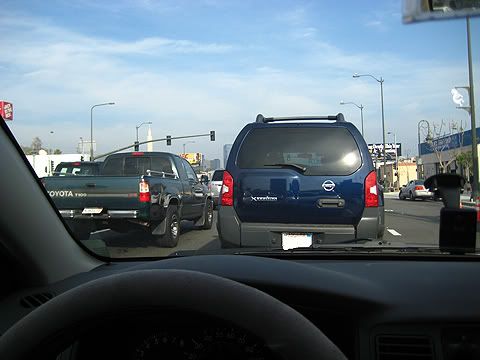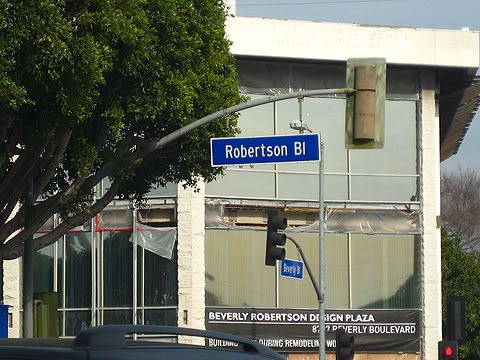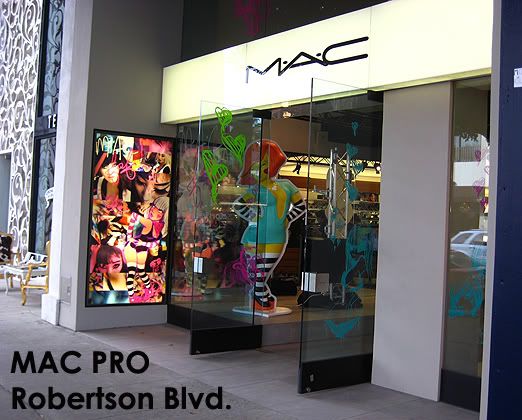 The MAC Stand at MACY's: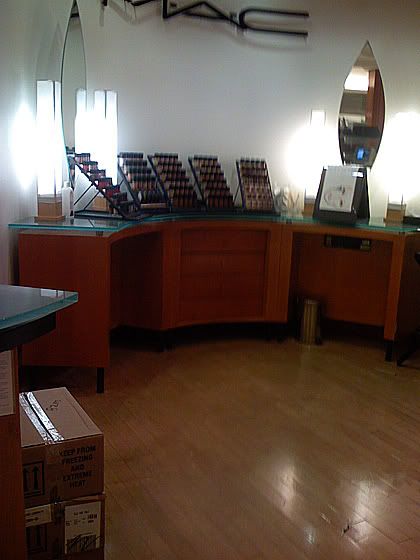 I really wanted to get the PRO eyeshadow in "Bio-Green" but they were sold out in both the refill pans AND the pot! Argh I was so disappointed! I guess i'll just put in an order over the phone...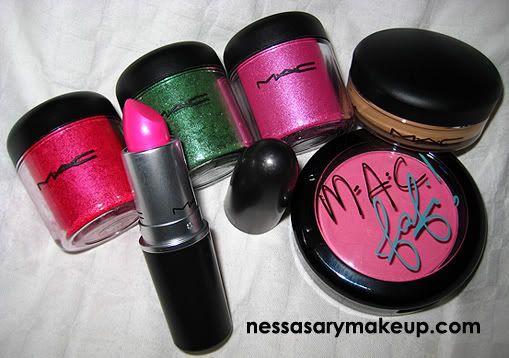 I bought:
Lip Erase in "Dim", Pigments: Emerald Green (PRO), Bright Fuchsia (PRO), and Fuchsia, as well as Fafi Blush in "Fashion Frenzy", and Lipstick in "Show Orchid".
-
Lip Erase:
Neutralizes the lip color so that you can really see the color payoff of your lipstick and lipgloss. Also great for doing a neutral/nude lip. You can also use concealer, however most of MY concealers are yellow-based so I bought this so it's more of a neutral color....
-
Bright Fuchsia Pigment:
Super bright, almost red but with a nice pretty shimmer, reminds me of "Flammable" Paint. Can stain...
-
Emerald Green Pigment:
Bought this solely for MAC Pigment Samples so it WILL be available soon!
-
Fashion Frenzy Blush (Fafi Collection):
I exchanged "Hipness" Blush for this simply because the "Hipness" blush wasn't working for me, it would concentrate so much color on one spot no matter how lightly I applied or what brush I used. Then I realized that I already have some blushes that are orangey so I figured id get Fashion Frenzy instead which I like a lot!
-
"Show Orchid" Lipstick:
I love, love, love this lipstick! I KNOW,
ANOTHER HOT PINK LIPSTICK
!!!! Talk about the PERFECT HOT PINK! I tried "Chatterbox" and "Girl About Town, as well as "Impassioned", "Immodest", etc., and out of all the amplified creme lipsticks, this one by far is the perfect hot pink! It's just so gorgeous and definitely wearable!
Gezebel
, you know you wanna try this one!!! This one maybe IT! Hehe :)
Swatches:
Fun N' Sexy Lipstick & Show Orchid Lipstick (PRO Color):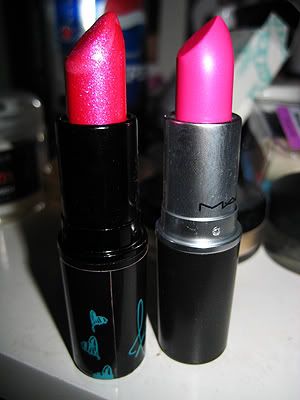 Wearing "Show Orchid" Lipstick: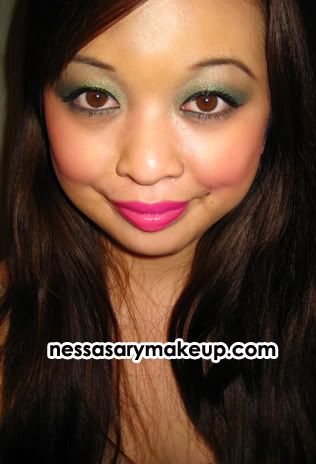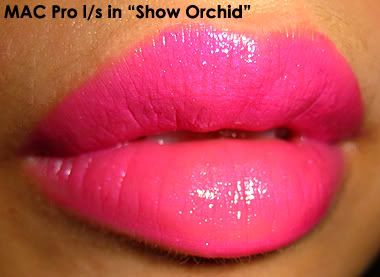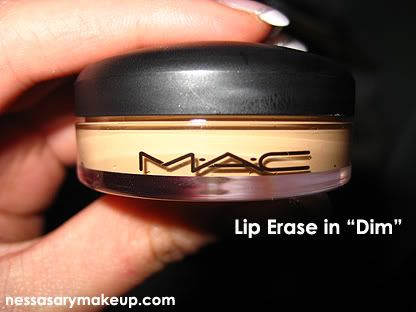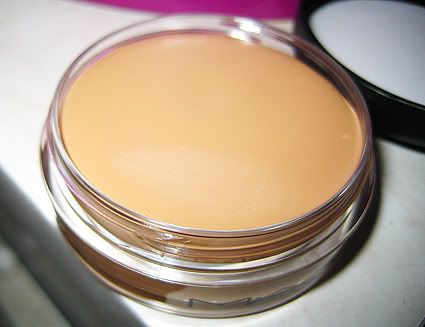 I also went back to CVS and bought more of the Milani Eyeshadows while they were on sale, I also picked up Milani blush in "Mai Tai" to "replace" my Hipness blush, LOL! They actually look similar...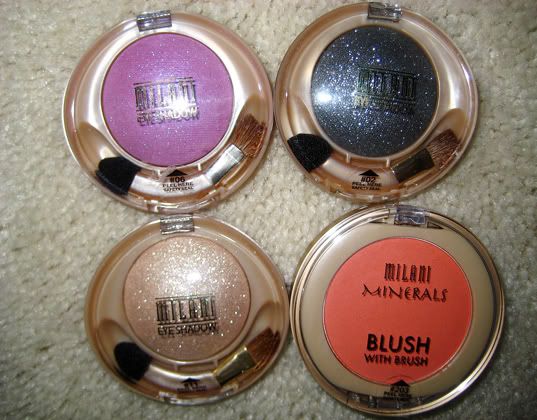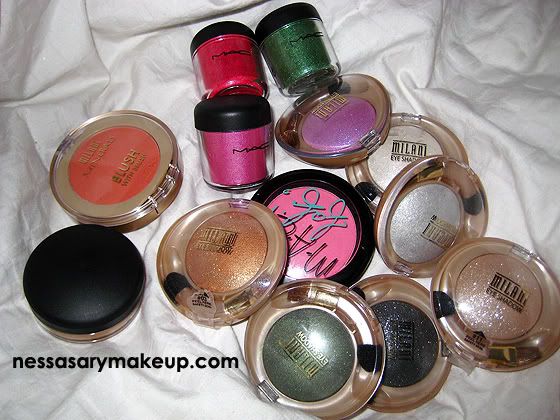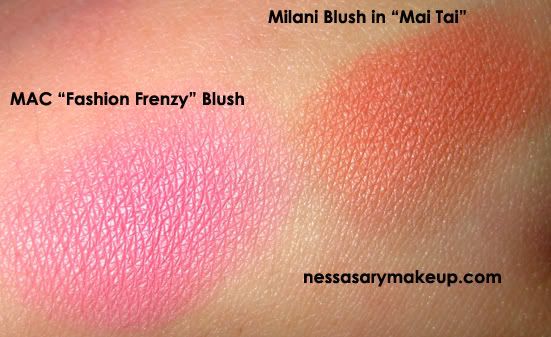 Fashion Frenzy on my cheeks (lips: MAC Slimshine in Bare):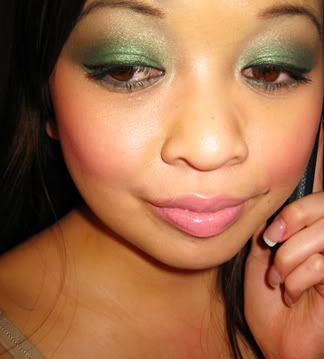 Swatch of NYX Round Lipstick in "Pandora":
Some MAC PRO Lipstick & Eyeshadow Swatches:

From L to R (top row):
Lipsticks- Impassioned, Up the Amp, Violetta, Show Orchid, Girl About Town, Chatterbox
(second row):
? forgot.., Bright Sunshine e/s, and Grape Pigment
(bottom row):
Pink Pearl Pigment, Blue Calm e/s, and Atlantic Blue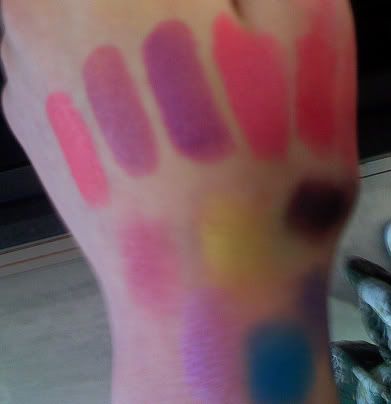 Swatches of Milani WET/DRY eyeshadows, ones depicted with an * are my favorites!