I love coming home to packages! It's seriously exciting "opening gifts" that you bought yourself, LOL.

So I was excited to see a package today when I got home from work, as soon as I saw it I already knew what it was! My MAC Dazzleglass in "Baby Sparks" arrived. Let me re-iterate that the ESTIMATED OFFICIAL RELEASE DATE IS IN MAY, I do not have any specifics at the moment in regards to an exact date, but as always you can count on me (as well as many other informational blogs) to bring it to you first!

***You can click HERE for more colors.




**EDIT as of 10:34 am: This liplgoss really stays on your lips! More than the lipglass! I ate breakfast, drank, and my lips are still shiny and moisturized!

First Impression- I LOVE the longer tubing, makes you feel you are getting your money's worth as oppose to the tiny lipglasses. I especially love the BRUSH applicator rather than the sponge-tip, don't get me wrong, I love BOTH brushes and sponge-tips, but there are certain textures and consistencies in various lipglosses where one prevails over the other. I bought "Baby Sparks", which I describe as a very sheer, light iridescent pink with subtle shimmer. I love how there is no nasty taste, and I really love this gloss when it's paired with ANY, and I mean ANY lipstick.

Not a FAN OF: The stickiness, it's not OVERLY sticky to where it feels thick, it's like normal lipglosses, so I wouldn't count this as a negative. Also, just to warn you gals who think these are heavily pigmented, they are NOT whatsoever. They are sheer as sheer can be.

Would I buy it again? I would definitely buy one or two more colors, I think they are gorgeous, however they are SHEER, so don't think you are getting full pigmented color that you see in the tube.

It looked weird by itself on my natural lips (because I just drank some punch so it just looked liked I had red lipgloss which is why I included the swatch up above), but here it is paired with "Scanty" lipstick by MAC. If you look CLOSELY, you may see the shimmer...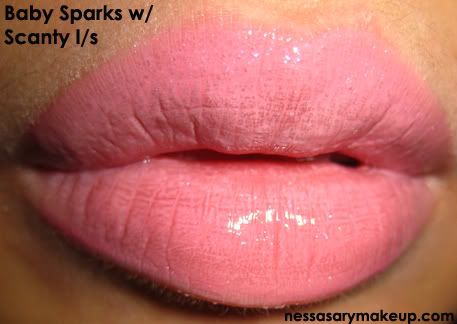 Also tried it with NYX B52 for kicks...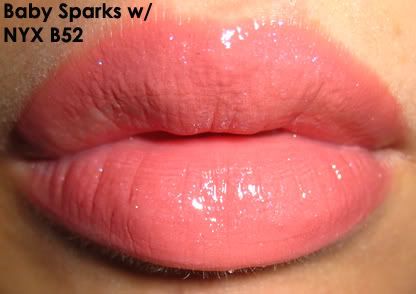 "Creme de Femme" lipstick mixed with "Up the Amp"...