So this was my super fast version of the Sephora look, I honestly rushed this look, didn't even take 15 minutes, so it didn't come out as good as I wanted it to IMO (in my opinion), it's also a lot more vivid in person..I didn't have any tiny flowers so I substituted flower stickers I found in my drawer. I also used "Bright Fuchsia" Pigment for the pink flowers, and "Golden Lemon" as the middle of the flower.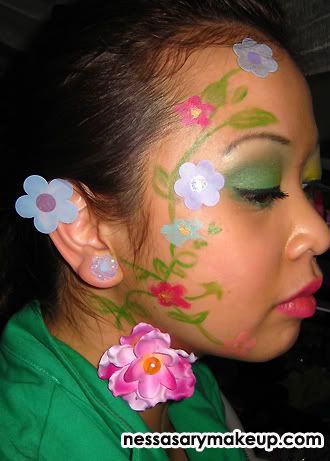 Here is a brief tutorial on how to apply these eyeshadows, I used: MUFE Flash Pots in White, Purple, Turquoise, and Coral using a sponge-tipped applicator, I highly recommend when dealing with creams to use a sponge-tipped applicator because the sponge holds onto the color and when you DAB it on your lid it doesn't streak unlike a brush where it will streak.

I started with the Flash Pot in "White", all over the lid up to the brow bone:



I then applied the "Turquoise" in DABBING MOTIONS, since these are a lot creamier than paint pots, they are more slippery, so you MUST dab little by little to your desired coverage of color on your eyelid, this also helps preserve the pigmentation so the color remains vibrant and not dull...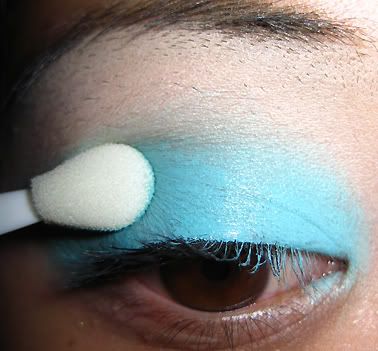 You should get this result, don't worry about blending yet, you will blend later after all the colors have been applied. The reason you do not want to blend in between each color is because it's going to fade each color and you'll find yourself applying more and more of it causing it to crease, so you will blend all the colors at the end.



Then I added the "Purple" on the Outer-V and contour again in dab and pat motions (this was a struggle!)



I applied "Coral" in the middle just because I wanted to use as much of the colors as I can...



Then BLEND LIGHTLY (not shown), don't put too much pressure because you may wipe some of the color off...then voila!


________________________________________________________________________________

PRODUCT REVIEW:

Makeup Forever Flash Pots, Sephora ($17)

Product: 2.5 out of 5
Packaging: 5 out of 5
Quality: 4 out of 5
Overall: 3 out of 5

What it is: Flash Color Pots by MUFE are cream-based, vibrant colors that you can use on the face, eyes, lips, and body.

PROS: These are incredibly vibrant as you can see from my swatches. They come in a wide array of colors, from the simple, basic colors, to the most daring bold colors. More colors are offered with MUFE than the MAC Paint Pots (at least as I write this!), I do not know too many makeup brands (that are at least available to me) that carry something similar, there is also a lot of product in each pot. My favorite colors are Turquoise and Leaf Green.

CONS: The price is insane, $17 each but then again MAC Paint Pots are $16.50, and BOTH give you A LOT of product to last a lifetime. This product creases like no tomorrow! So that is such a big disappointment, I am trying to figure out a way to control it, I tried a paint pot as a base, powder primer, UDPP, STILL creases! I think these make great bases (under powder eyeshadow) or a look using both a powdered eyeshadow and the pots. They would have been PERFECT if they had the same exact consistency and texture as the MAC Paint Pots, as the MAC Paint Pots go on creamy, but dry to a nice powder-like finish. The MUFE Flash Colors Pots are just creamy all the way around, you can apply it and sit in front of a fan and it will still be creamy, it's like it never fully dries to where it will 'stay'. Also when you apply a color and you try to apply another color for some reason the first color will fade a bit, it's THAT creamy, so you always have to re-apply to maintain the intensity of the color.

Overall: I like the color-payoff of these pots, but I do not like the crease factor at all, and I don't even have oily lids! So if I can get around that, then I would definitely purchase it again, if not, then sadly I would have to return some of them just because I don't have patience to really sit there and try to make our relationship work! LOL!

If you look closely at the tutorial pics above, you will see the shine of the "creaminess" and then with all the colors, it looks cakey and "melt-y"...