*Regarding my last post on the book I made, again it was from a publisher that also made other printed material, I believe I paid about $60-80 bucks to get it done, I am trying to remember the name of it, I probably have it lying around somewhere...thanks ladies, I am such a hopeless romantic! :)

I love earthy colors, and brown is just a gorgeous color when paired with brown hair. Shimmery browns, antique gold, or a brownish purple (like MAC e/s in Shale), really bring the eyes out, and it's perfect for school or work. And ALAS!! I used FALSIES! I rarely use falsies because like I have said before, I am super lazy in the AM, and because my lashes are long as it is...

For this look I used MAC eyeshadow in "Mulch" and Milani eyeshadow in "Java Bean".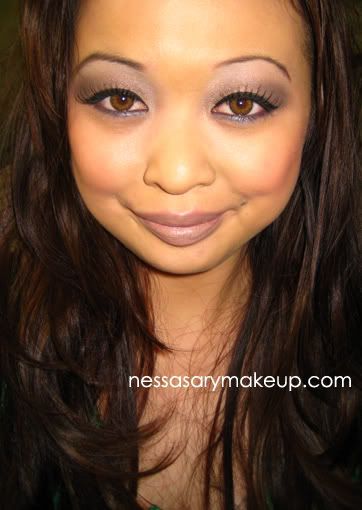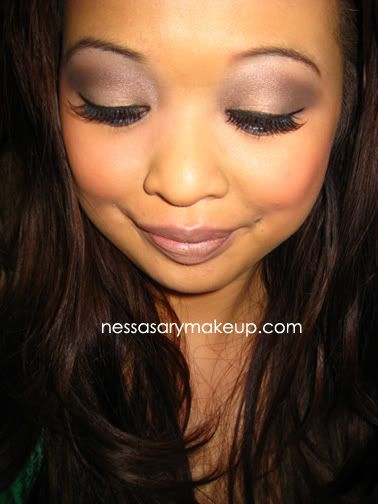 What I used:
Face
- Camellia Rose Skin Soothing Primer
- Silk Naturals Mineral Foundation (Buttery Gold)

Cheeks
- EDM Blush in "Weekend Getaway"
- Milani Blush in "Luminous"

Eyes:
- MAC Paint Pot in "Painterly" all over the lid
- Pure Luxe Mineral e/s in "Fantasy" applied wet all over the lid
- MAC Pigment in "Your Ladyship" applied wet on lower half of the lid until the crease
- MAC e/s in "Mulch" and Milani e/s in "Java Bean" on outer-V and contour.
- Indelible Gel Eyeliner in "Black Out"
- Covergirl Lashblast Mascara in Blackest Black
- Covergirl Gel Eyeliner in "Slate" on lower lashline
- ARDELL "Whispies" eyelashes

Lips:
- Princess lipstick in "Dazzling Pearl"
- NYX Round Lipstick in "Rea"
- Sephora Lip Liner #206
- AVON Lipgloss in "Cafe Latte"

And my new purse which I absolutely love, I bought it at the Camarillo Outlets!