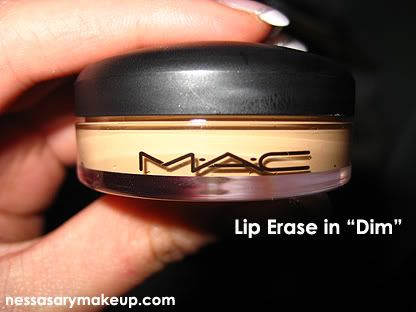 Product: 4 out of 5
Packaging: 4 out of 5
Overall: 4 out of 5
Price: $16.50

What it does: "A flesh-toned balm that visually neutralizes and erases natural colour from the lip. Shine- and texture-free. Available in a choice of two shades for use on light to medium skin tones."

My take: I have always used a concealer or a cream foundation to neutralize the color of my lips. I do this so that lipsticks appear truer and brighter in color so that the actual color appears, and not the color result of it being mixed with my pink, or sometimes red lips. I wanted to try this because like I said, I have always used a concealer or a cream foundation, obviously now that I use mineral foundation, I don't really have anything to do the job, I can use my concealer but it's TOO thick to be on the lips and makes it look cakey. There isn't much color different between the only two colors they have: Pale and Dim. Pale is really light so I got Dim so I don't look so ghastly.

What I liked about it: Lip Erase is really for the lips, giving a nice neutral color, and no yellow tinges or yellow undertones found in concealers. It really covered up nice and applying lipstick glided on smoothly! The packaging is nice too, usually when it comes to lips, I hate jars, but because the jar allows you to use your finger or a lip brush and really get in there and get some color, it makes application A LOT easier to apply, and applies it evenly. The pot is HUGE and there is more than enough to last you a long, long time!

What I didn't like about it: First of all, it's ONLY available in MAC PRO stores (www.macpro.com), so you will not find it on the actual MAC website. It's not as creamy as I would like it to be, it's a bit dry in the sense that it takes some swipes to really get a good amount to work with. It can also make your lips feel dry so you may want to put some chapstick before you apply this.

You might like this if: You have naturally pigmented lips such as a dark pink/red and lipsticks don't look the same on your lips as they do on your hand. You might like this to neutralize the color making your lippies much more vibrant and true to color!

You might not like this if: You already have dry, chapped lips.

Natural Lips (no chapstick, no primer, nothing):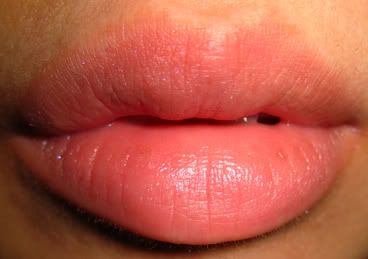 Lips with MAC Lip Erase in "Dim"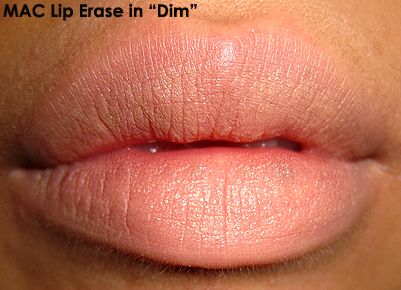 Comparison Photos: