**EDIT** below are only SAMPLES of the Pure Luxe eyeshadows, CORINNE mentioned they don't look like there's a lot, but below are the samples so if you order the 5gram jar of any color, that's a good amount, AND a little goes a long way, I have used the samples 4 times already and as you can see I STILL have a lot!

Here is a look I did using some of my favorite eyeshadows from Pure Luxe, "Amethyst" and "Bad Girl". I also used my Fafi blush in "Hipness", and at first I also used the "Fun N' Sexy" lipstick but it was bit too overpowering for the eyes (in person) so I opted for MAC Slimshine in "Intimidate", it looks brighter in these pics, but it's a lot softer in person...

I also used "Cash Flow" PP (paint pot), but you can't see it. :(

***I had questions regarding how to foil pigments (apply them wet) so that they adhere longer as well as adding a lot of vibrancy, so I will do a tutorial on these hopefully tonight.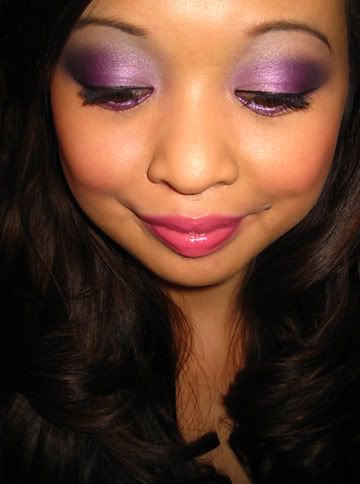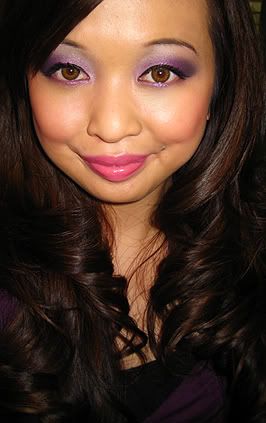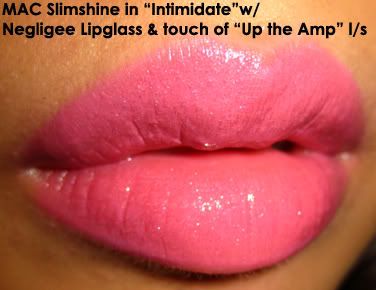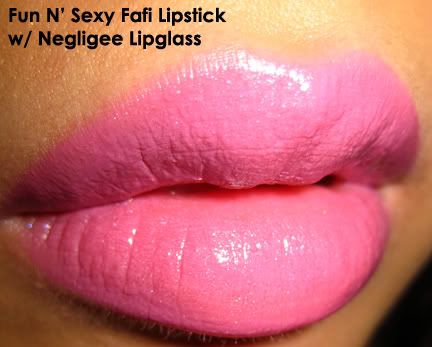 What I used:
Face:
- Sue Devitt Face Primer
- MAC StudioFix Concealer in NC30
- Silk Naturals Mineral Foundation

Cheeks:
- MAC Blush from the Fafi Collection in "Hipness"

Eyes:
- MAC Paint Pot in "Soft Ochre" all over lid
- MAC Paint Pot in "Cash Flow" all over lid
- MAC e/s in "Mancatcher" as base on lower half of the lid
- Pure Luxe Eyeshadow in "Amethyst" applied wet all over lid until the crease
- Pure Luxe Eyeshadow in "Bad Girl" applied 3/4 of the way towards the outer-V
- MAC e/s in "Knight Divine" and Milani e/s in "Storm" on outer-V and to deepen the crease
- NYX Dark Shimmery Purple from the "Lake Moss" Palette on outer-V
- MAC e/s in "Rondelle" as highlight
- Indelible Gel Eyeliner in Black Out
- L'Oreal Telescopic Mascara
- MAC "Violet" Pigment on lower lashline (applied wet)

Lips:
- MAC Slimshine in "Intimidate"
- MAC Lipglass in "Negligee"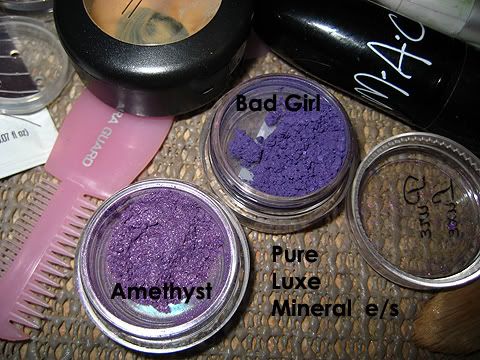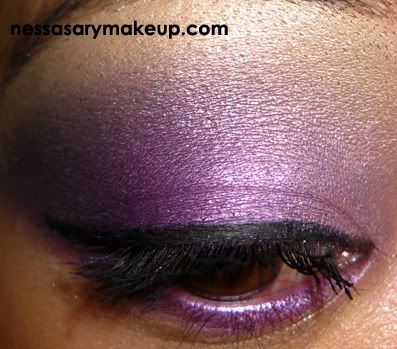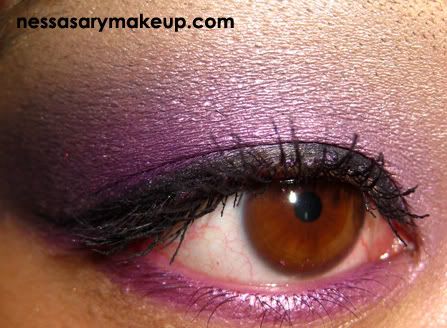 SQUISHY FACE!