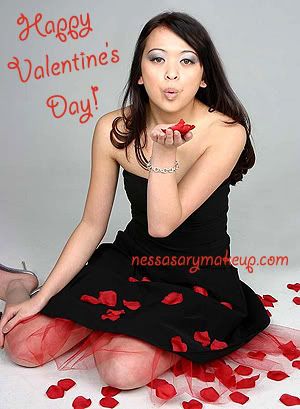 Just want to wish you all a Happy Valentine's Day! Hope you enjoy it with your boyfriends/fiances/husbands/man on the side (lol)! For you single ladies, I hope you enjoy today as well, perhaps getting ready to look hot tonight with your girlfriends! I just always loved the candy I got from people when I was single!

I know most of you ladies aren't going to do much tonight since some of you have classes tonight or either you or the BF are working, but take solace knowing that it IS Valentine's Day everyday with your man, this is just the one day it's "publicized", LOL. I personally don't think we have any plans tonight, probably just dinner and maybe a movie...last year the BF and I waited 3 HOURS to eat dinner at Red Lobster (the first place we met/first date), so I am not even about to do that again THIS year! I told him if it's bad today, I am eating Taco Bell! No joke! If I am hungry, I have no patience waiting for a table...

And since it's V-Day, I just want to say that I LOVE ALL OF YOU LADIES! You all are such great people, and I know I may not have time to speak to each and every one of you, but I just wanted to say thanks, you gals are like the sisters I've always wanted! My real sisters are the ones I wish I never got, LOL! JK!

Speaking of which, I sent my little sister a Valentine's Day Card (she is 10), and she called me to say thanks, so our conversation went like this:

Me: "You like your card Megan? It has stickers."
Megan: "Yeah I like it, I am going to use the stickers to decorate something."
Me: "Will you be my Valentine?"
Megan: "Uhhhh....ummmm...I guess..."
Me: "You're mean!"
Megan: "But you're a girl...and isn't Jon your Valentine?"
Me: "Yeah but he's a meanie-head, I want YOU to be my Valentine..."
Megan: (In a disappointed, reluctant tone) "Then I guess i'll be your Valentine..."

HAHAHAHA, she cracks me up....