The rest of the crew at my work arrived last night from the Santa Clara show, so they were all in the office today, and they got me some cool toys from the other booths, I can't wait to go to NY again next month and do a little makeup shopping! :)

Gezebel always makes me laugh with her endless pen toppers and work toys, so I thought id share mine, at least some items that get me through the day!

I got a cool Rocketship Google Pen that lights up, I love it, haha I am such a dork.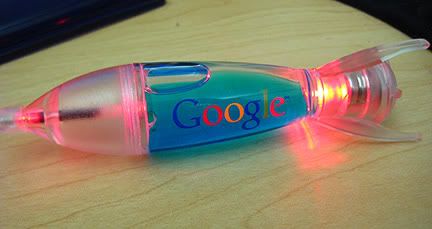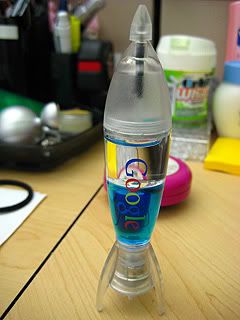 I think of Rosie O'Donell when I see or hear "Koosh Balls" since she always flinged them around when she had her own show, now I throw em around at my co-workers, LOL. Of course, gotta have pics of the hubby!



Feng-shui madness, my Arowana fish that supposedly will bring me good luck, health, and fortune (and maybe makeup???), the BF got it for me...



My cool egg lamp that changes color:



Gotta represent!



The cutest baby on my calendar!



My pop-up brush and mirror: