Since I work for an internet company, I am always online- even in my sleep. My clients email me at any time of the day, especially my international clients who are wide awake when I am fast asleep. So I had to keep up with the latest technology despite the fact that I said I wasn't going to get the new iPhone (I had the first one that came out), but my tech guy at work said to sell my old one because they were being sold on ebay for as much as $600 and someone bought his for $350. Why? Because they were all unlocked and jailbroken, meaning that anyone with a SIM card from ANY carrier could use the iPhone without having AT&T. Including mine.

Soooo, my BF's brother is buying my old phone from me (I gave him a good discount since he's a great "brother-in-law", lol.)




Instead, I called my local Apple store to see if they had any of the new iPhones left, I checked the availability online the night before but sleep was more important to me so I slept in instead of waking up early to get in line; and when I called it was almost noon and I figured they were all gone like always. But Cory, the guy that picked up said that there was NO ONE in line and that they only had the 16g left which I was fine with, so I rushed out of the house and to my surprise, I was #2 in line! I couldn't believe I got it that fast!

I know that there are some who think that the iPhone IS over-hyped- and it is. But with good reason. It's a very versatile phone and I can see why it's popularity has soared ever since the prototype came out- because it does everything most people need, if not more; my mom has a blackberry so we have this debate all the time, LOL. I just personally like it because it keeps me in sync with work and my personal life, I get all my emails, I can work on it, chat with clients, use the maps, and download countless of helpful apps, watch YouTube vids, or play games; and look at the web rather than "mobile web". BUT, it's not quite the perfect phone- yet. I WISH it had a "Copy and Paste" feature, I mean if other smart phones have it, why not the iPhone? There's also no video (I don't use video so it doesn't affect me but just for comparison purposes), and depending on what apps you are using it does "freeze" like a normal computer at times. But nonetheless, I do love it and it fits my lifestyle, esp. the new one, I do notice internet is a lot faster (at least for me).

Besides, it tells me ALL the MAC locations near me?!!! Gotta love it! HAHA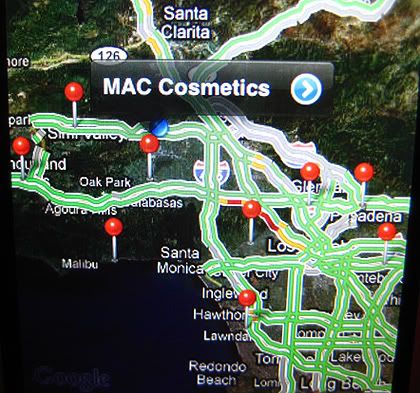 I ended up going to Best Buy to get a case for it, I got one from Griffin called "The Wave", it was a 2-pack that had pink and blue in it, the BF got another 2 pack that had the black and green. You can match 'em or you can mix 'em up and it comes with screen protectors.

I sure am gonna miss my old phone, but I kept it in EXCELLENT condition!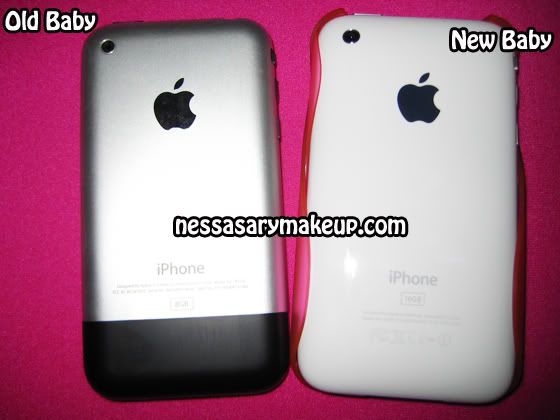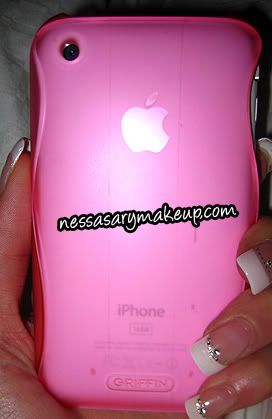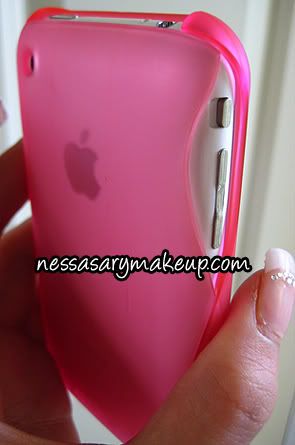 My wallpaper- me and my youngest sister Megan, she chose this pic since this is when I went to go visit my family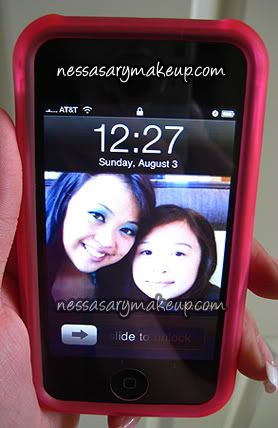 The BF and I went to dinner with Anne and her BF at Wood Ranch and he ended up having tons of fun with his while we were waiting for a table!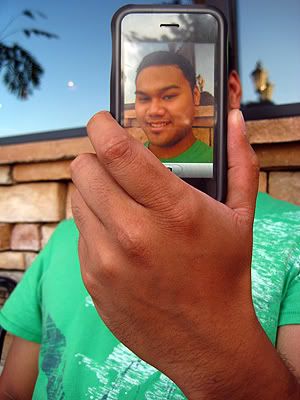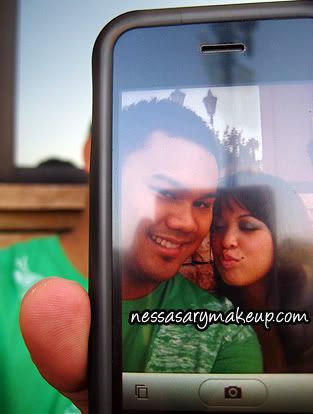 My cranky face because I was hungry...lol