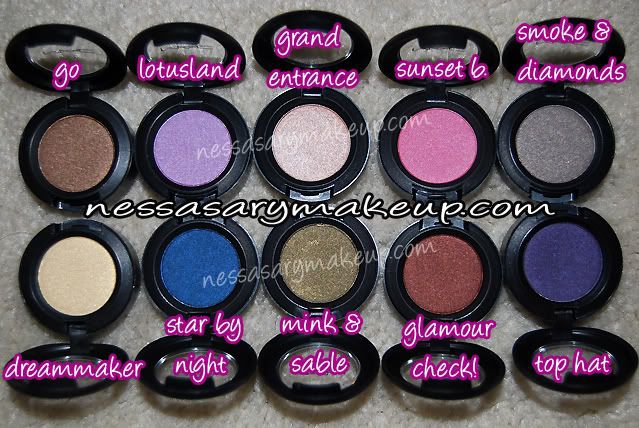 So many of you have asked me about these eyeshadows so I thought id discuss them a bit more. These are a brand new finish that MAC is releasing into future eyeshadows, it is a creamy, finely-milled powder feel that goes on smooth, and some pigmented for the most part. I love the texture of these eyeshadows along with the other finishes already in the MAC line such as Frost and Veluxe Pearl.

However, there are a few colors from this particular collection that didn't tickle my fancy like I thought it would because they ended up not showing up too much on my NC30 skin. Such as lotusland and Sunset B. Initially I thought these colors were gorgeous but was disappointed when I could barely see it on my skin. I love Sunset B though because it isn't outrageously pink, so I thought to myself, I am going to make it work!

Instead, I noticed that it looks a lot better under a base of some sort, whether it be UDPP or a paint pot. For you gals that have the "Bare Study" paint pot, I believe it will look just utterly gorgeous with Sunset B on top as it gives an extra shimmer, adding more dimension into the eyeshadow. Mind you, the swatch of Sunset B by itself was like 10 swipes of it!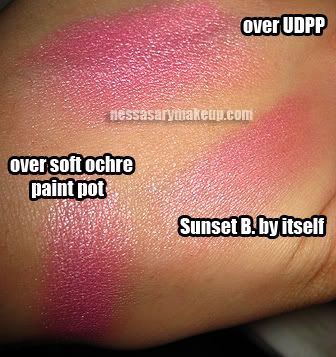 Another color I thought would impress me but didn't? Talent Pool. Don't get me wrong this is a pretty color, it just looks like a bunch of other blues that I own. It almost looks like "Steamy", and do I really need it??! Nah.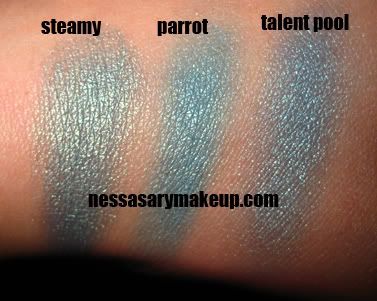 So there you have it! Hope that helps, I will be doing my Lustre Twins review soon with swatches. I had to move all my pigments to a bigger drawer (with the dividers from an Asian market), since I acquired "Tea Time" (colour forms), and "Gilded Green" (gorgeous!) swatch of that coming soon as well including a tutorial using it. So stay tuned!