This is a picture-less post unfortunately (in regards to the Grand Duos) since my local MAC Store had the Grand Duos IN the store but not out on display (meaning they were still nicely packed in their delivery box), so instead I walked over to Nordie's MAC counter, and they had it (my MAC store needs to pick up their game I know! Haha) I swatched it on my hand and I was a bit disappointed because they were way too shimmery for me (I forgot to take a pic of my swatch, argh). Don't get me wrong, I love me a little shimmer, but these were WAY too shimmery for my taste (just my personal opinion).

I DO love some of the colors however, and I do think they are workable perhaps with the brush that's in this collection or even with another blush (like a matte blush, etc). Maybe I just gotta have another look before I can really make up my mind...

Hopefully I can get around to posting my Purely Cosmetics goodies later today! There's just so many!

Anyway, I was looking at some old pics (as I am working on my sister's slideshow for her 18th birthday party, aren't I the best big sis ever?! LOL) and I found some older pics when I had bangs, at times they were straight across, and other times they were side sweep bangs, or just random layers...and I am thinking about getting bangs again just because I am bored with my hair already and I think I have my dad's huge forehead (yes Tyra Banks comes to mind haha). The BF loves bangs on me but then again I don't consider him a good judge since often times he's just pulling my leg!

So whatdya ladies think? Bangs or no bangs? I think they really change the face, and since I have the fattest cheeks in the world, I think bangs would take away from that and give an edgier look. My co-workers suggest I go a bit lighter and maybe get some highlights, but I love dark hair and how it brings people out, especially with my skintone I can't work light hair, but maybe subtle highlights (thinking maybe caramel)...argh I don't know! I just want something different...

Side swept/Chunky/or Choppy bangs?? Or no bangs at all??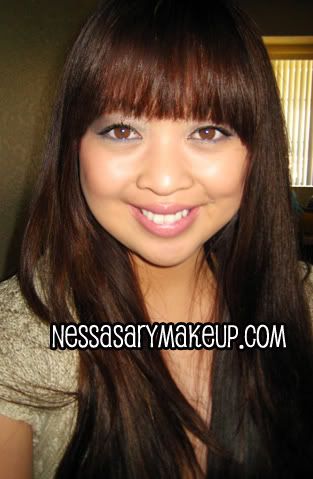 With highlights: