Happy Friday my loves! The past day has been crazy at mi casa, and today is going to be even more crazier as more family start to arrive from San Francisco and Canada to celebrate my sister's 18th bday...my once clean room is beyond recognition, it is now filled with dresses, curling iron tools, makeup (and always has been!), shoes, and stacks of luggages and bags.

My sisters are supposed to stop by work today and have lunch, but I doubt it with all the pre-party planning and last minute details they have to do, but we'll see! I gotta hide her from the Glitz store by my work that sells NYX stuff!

Anyway, when my dad arrived we celebrated his bday. He's so cute, he didn't even want a cake or anything, and EVERY year he tells me "Don't get me anything", and when do I ever listen?? So I bought him the camera he was eyeing, since him and I have this insane obsession with cameras and photography...I got him the Canon Powershot SX110IS, which is in between a regular digital camera and a digital SLR camera, takes pretty good pictures too, even from far away! Now I am thinking of getting one for myself! HAHA

Dad with his other 2 girls,(his favorite is missing from the picture, LOL) his shirt says "ROCK IT", how hilarious is that!?? And my sister's hair is always in her face!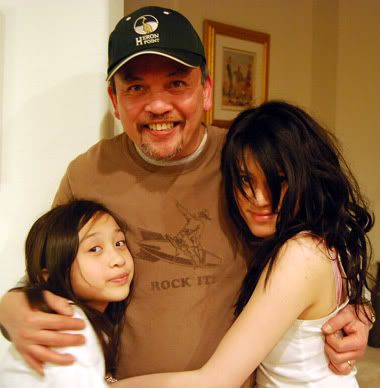 Candid shot of the youngest: