This is a reader request FOTD from a reader who had a shirt she wanted me to match; and the colors on it were blue, green, and black. I took the pic towards the end of the day so it's not "fresh" but ah well. She also wanted me to use Milani/Mac products preferrably. :) Lately I haven't been doing many "looks" because my skin is being fussy so I am letting it "breathe" and do its thing...haha.

What sucks is that this saturday is my sister's party and im still sick, my throat hurts like hell (lost my voice too), and my skin is being stubborn. All of which will not go away come Saturday. Don't you hate that??! When something bad happens before an event? Like a huge pimple on your nose or a place you can't really "hide" it...so aggravating!

Anyway, for this look, I used Milani's "Blue Ice" and "Storm", and MAC e/s in "Eyepopping"(LE) from the C-Shock collection.

Up next: Revlon Fantasy Lengths Falsies Review!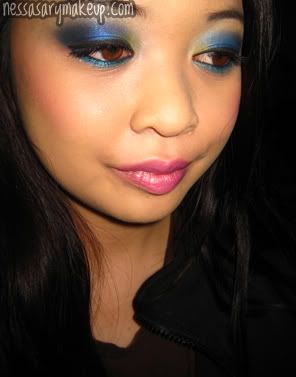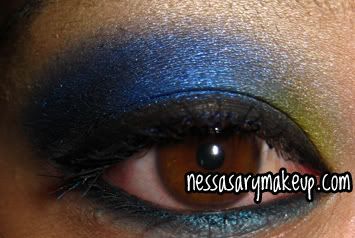 What I used:

[Face]
- YSL Skin Radiance Brush
- Studio Sculpt Concealer in NC30
- Buff'd Mineral Foundation in "Chamois" and "Almond" mixed together
- MAC PRO Loose Setting Powder

[Cheeks]
- I forgot what I used, but it was either NARS "Torrid" or MAC "Springsheen" blush

[Eyes]
- MAC e/s in "Eyepopping" on the inner lid
- Milani e/s in "Blue Ice" on the middle of the lid
- Milani e/s in "Storm" on the outer-V
- MAC e/s in "Naval" on lower outer-V
- MAC e/s in "Femme-Fi" as highlight
- MAC Fluidline in "Blacktrack"
- Vincent Longo Mascara Sample (it sucked)
- Urban Decay eyeliners in "Zero" & "Electric"

[Lips]
- MAC l/s in "Creme de Femme"