Yay! Finally my Purely Cosmetics post!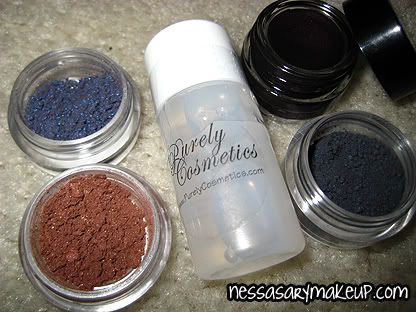 If you don't know about Robyn or Purely Cosmetics by now, then you are living under a rock! LOL. She is just so amazingly nice and I love how she is so attentive to EACH and EVERY one of her customers.

I had the opportunity to try some of Purely Cosmetics' popular products and I am quite pleased! About a month ago my t-zone was super oily outta nowhere and I was getting a few zits here and there that was just bugging me; on top of that my makeup at the end of the day was looking like a hot mess. Miraculously Robyn heard my cries and sent me her Silk & Pearl Priming Powder, Oil Absorption Powder, Duo/Dual Fiber Stippling Brush, as well as some of her eye colors and eyeliner sealant.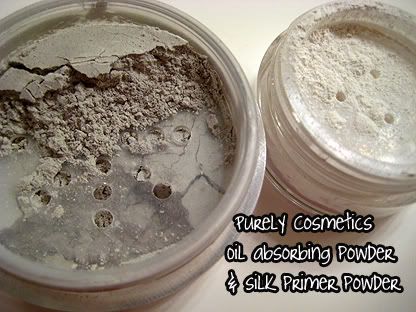 I absolutely LOVE the Oil Absorption Powder! I swear it saved my face and it left my makeup nice and shine-free at the end of the work day. I first applied the Silk Pearl Powder with the stippling brush, then applied the Oil Absorption Powder. Afterwards, I just applied my mineral foundation like normal and my face wasn't as shiny and it lasted longer as oppose to just applying my foundation with a primer. You can even use the Silk Pearl Primer and the Oil Absorption Powder as a setting powder on top of your foundation.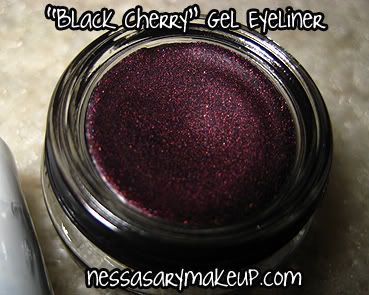 The Black Cherry Waterproof Gel Eyeliner is a gorgeous deep purple-burgundy with tiny flecks of shimmer which is just beautiful in person. I will definitely be doing some looks using these products soon!

The "Black Chameleon" eyeshadow is a nice soft almost matte black which is perfect for smokey eyes, or you can use it with the eyeliner sealant to create your own eyeliner.

Let me describe each of the products I received (please check out her site for ingredients and additional information):

- Oil Absorption Powder: For extremely oily skin, our Oil Absorb is made of finely ground bentonite clay, which is well known for it's high absorption properties, as well as silica, calcium carbonate, and kaolin clay. Use a light layer under foundation to absorb excess oils.

Pure silk powder is perfect for combination skin. While leaving your skin feeling silky soft, silk powder is a "smart powder" that can either absorb or release moisture as needed, in addition to absorbing excess oils. A very breathable ingredient, it's properties will change as temperatures and humidity changes - perfect for the warmer months. Can be used as a primer or a finishing powder.

- Silk Primer Powder: Composed of pure silk and pearl powders, this facial primer nourishes your skin with amino acids & calcium, hiding your pores, absorbing excess oils and moisturizing your skin to leave a matte and velvety soft texture. Pearl powder has long been known to help heal skin redness, smooth & refine skin texture, and regulate skin discolorations. Allantoin helps increase skin cell rejuvenation. Available in two formulations: Normal - Dry skin and Normal - Oily skin.

- Eyeliner Sealant: Make any mineral eye shadow stay true all day long without the use of a primer. Simply put a drop of sealant on your brush, dip into loose eye shadow and apply. Dries in just a couple of seconds. Will not crease or smudge! So little is used at a time, this 1/2 ounce bottle will last a long time.

- Waterproof Gel Eyeliner in Black Cherry: Will not smudge off!

The stippling brush is similar to the MAC #187 brush and is used for light application of mineral foundation or blush. Like all brushes i've tried including MAC, the bristles shed a little bit, but not too much. It's a nice dense brush so it allows you to grab enough product for application.





Swatches of the versatile powder eyeshadows (click to enlarge):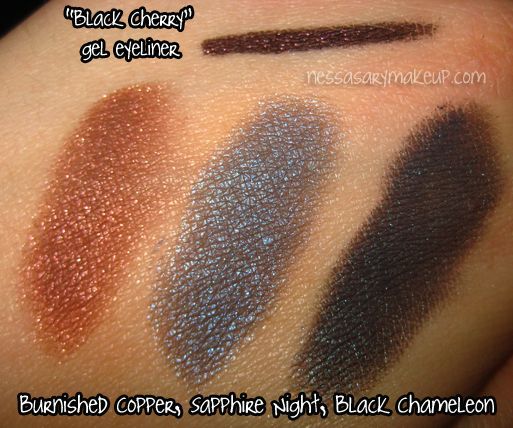 Swatches of their pretty shimmery blushes: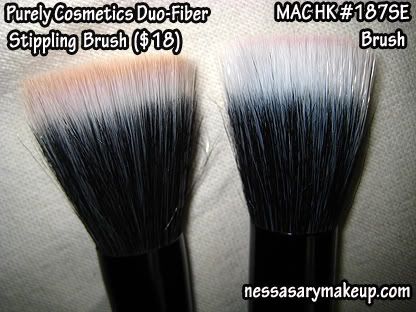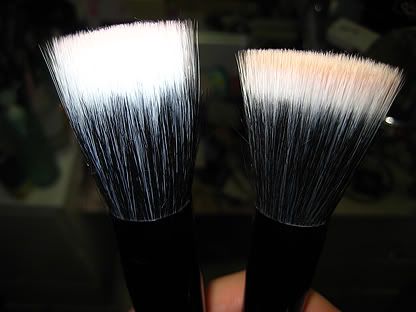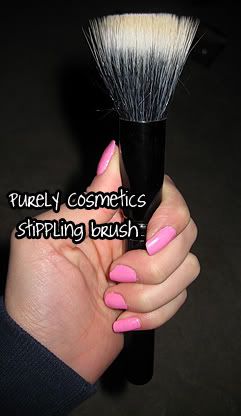 Here are the items I used for my "natural look":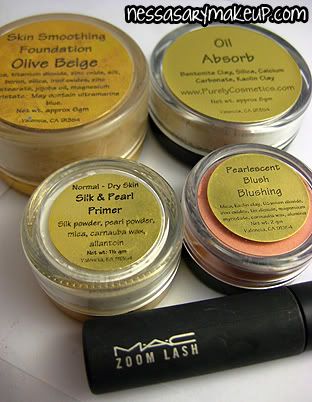 Freshly applied...(Hello Kitty ring from Hot Topic)



After work, 9 hours later...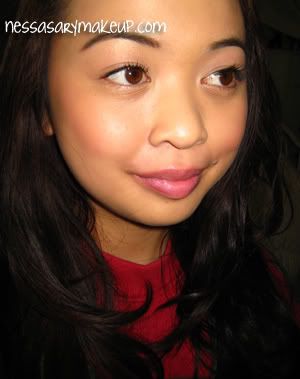 Some looks using Purely Cosmetics Eyeshadows:
Here is a pic using "Antique Copper" (now the "Burnished Copper" you see above):



Eyeshadow in "Shimmering Bronze", CLICK HERE for a break-down of this look