Yay! Finally my pictures from last weekend's makeup show! In case you missed it, read the blogger preview post.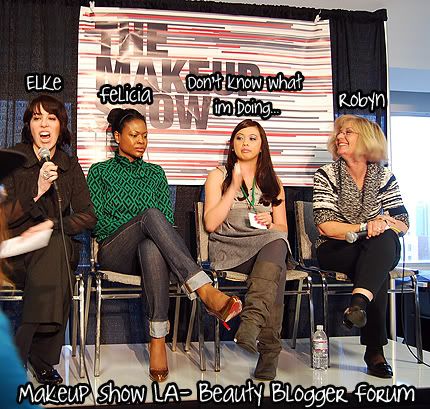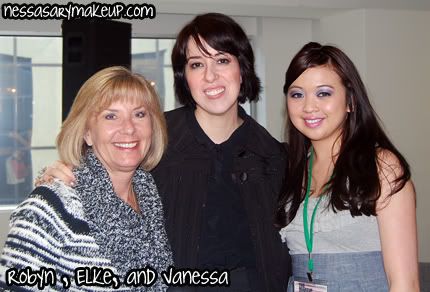 The objective of the Makeup Show LA of course was the Blogger Forum which was amazing because I saw a lot of familiar faces in the crowd (other gorgeous beauty bloggers!), and it was fun to talk to the audience about blogging in general.

I met so many familiar faces and like I said before, it was a great experience to finally meet my "virtual friends" who have become like sisters to me. On the blogger forum: Elke, Robyn from Purely Cosmetics, and Felicia from Thisthatbeauty.com.

Of course in addition to the wonderful gals I met at the Blogger Preview, I also saw Anne of Yummiebitez.com, reader Ingrid, the flawless Seymone, and Audrey from Fabuless Beauty; as well as many other fabulous ladies! We also saw Ongina from RuPaul's Dragrace!

Anyway, I will let the pictures speak for themselves and discuss each company as I go along(some pics are clickable to enlarge)...here are a couple videos of celebrity MUA James Vincent at the Crown Brush booth telling us what his favorite brushes are!





First, let's start of with getting READY for the show, stylist Tatiana came over and did our hair (Erica and myself), she is AWESOME with cut, color, and updo's and is in the LA area, so if you are interested in her services, let me know!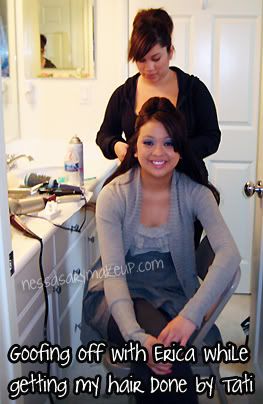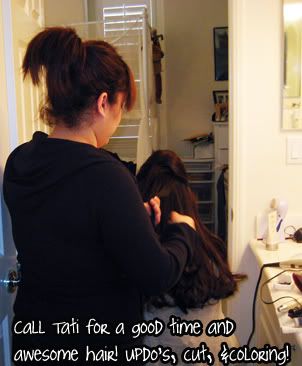 The OUTFIT!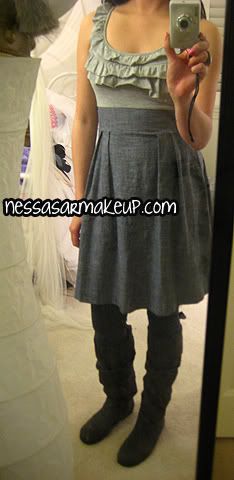 At breakfast: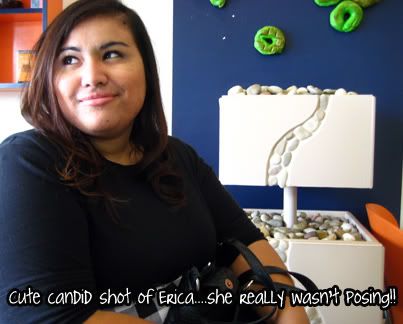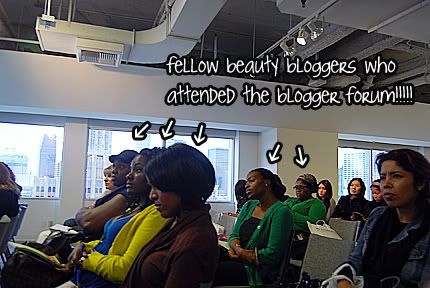 I loved the view!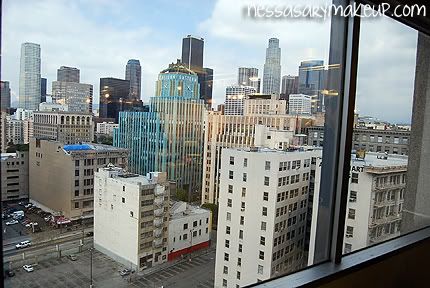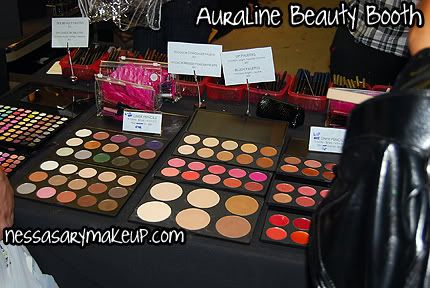 Chaos at the Crown Brush booth (clickable):



Obsessive Compulsive Cosmetics: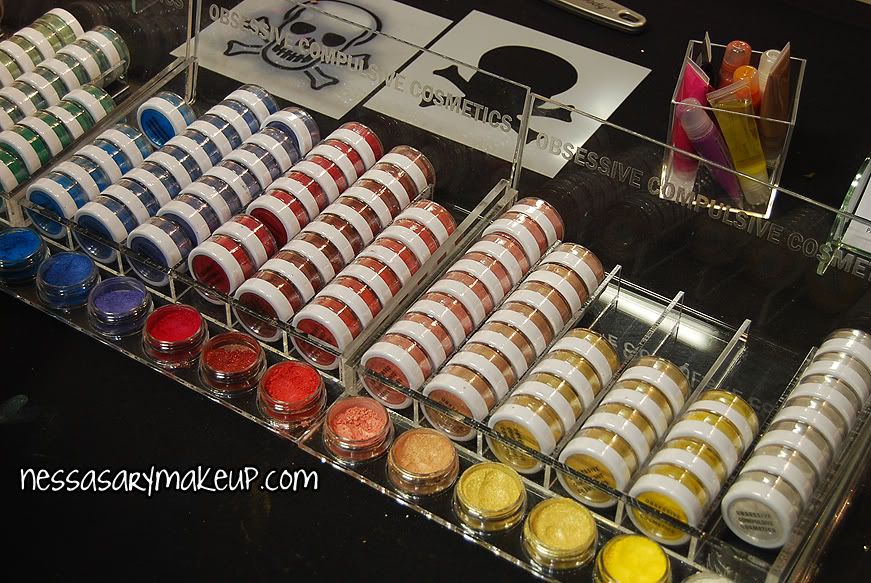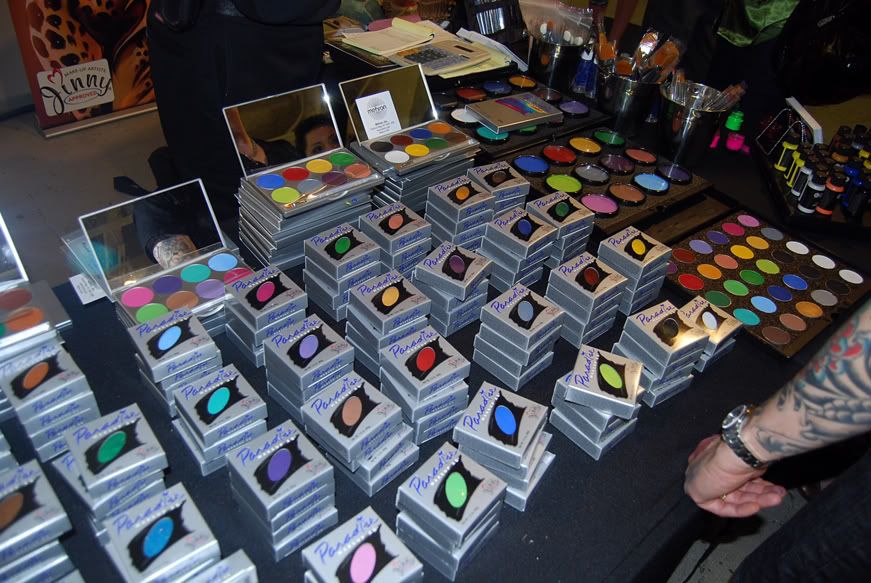 Model in a Bottle! (makeup setting spray, CLICK HERE for my review)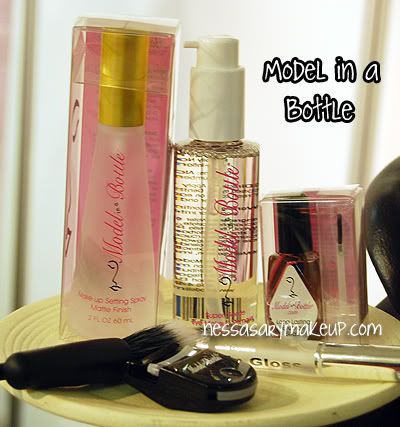 Powderpuff Beauty is an awesome company that allows you to create your own custom palette, you choose the colors and ta-da! Here are the lovely owners: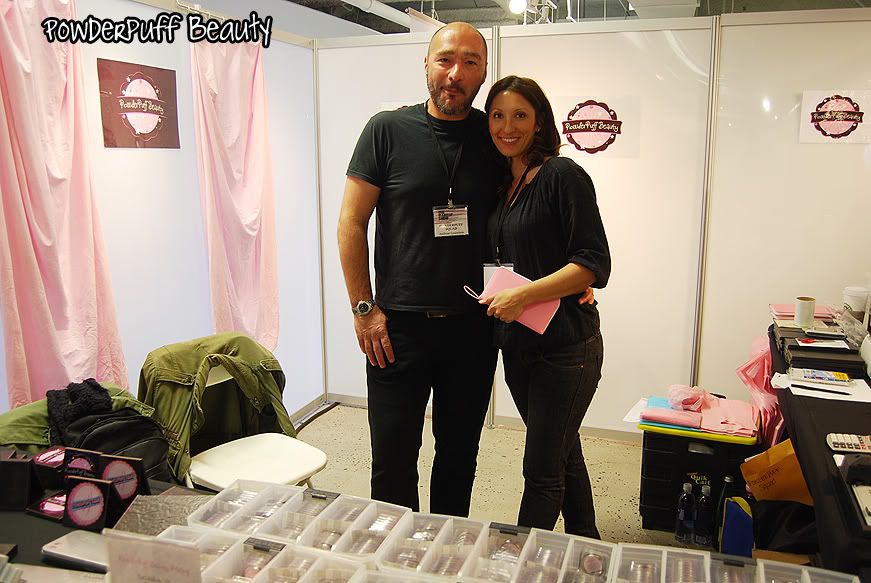 Eve Pearl's Cosmetic Line: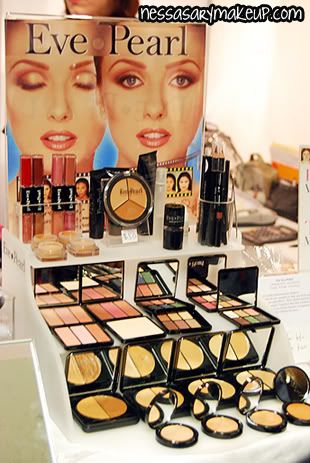 At Eve Pearl's Seminar at the show, she covered false eyelash application techniques, how-to's, etc. I highly recommend that you visit her Makeup Experience Studio & Boutique if you are ever in New York! She knows her stuff!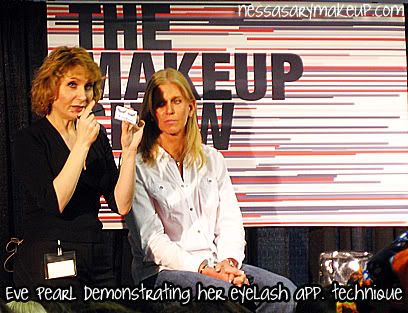 Her seminar was packed with bodies!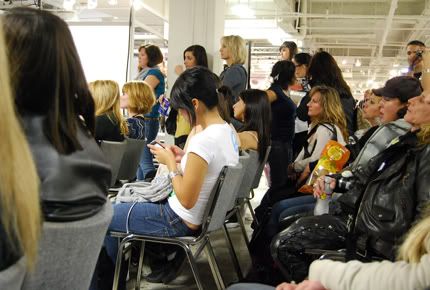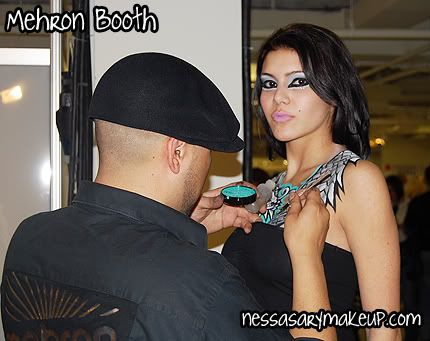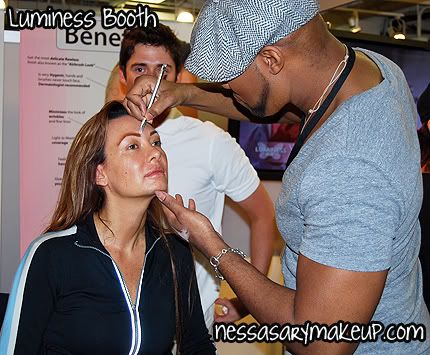 This is ALL body paint and glitter!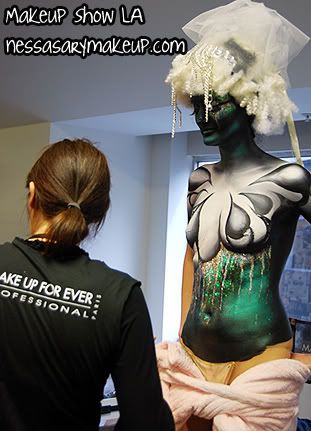 Freaky huh!?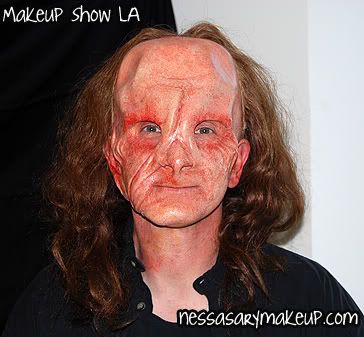 Shoes are cute...but not with that thing!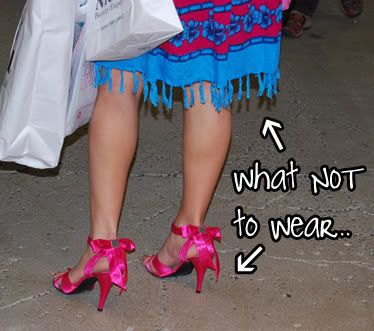 A model getting an airbrushed tattoo: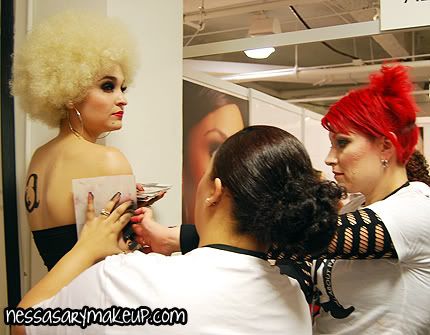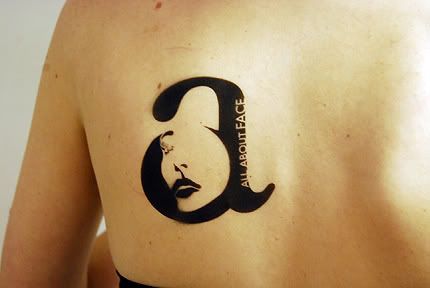 The Smashbox booth: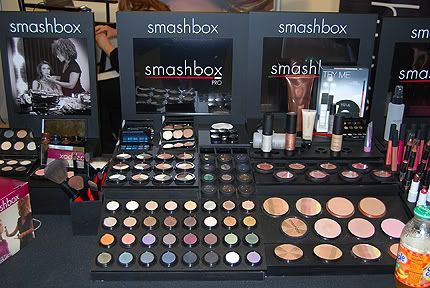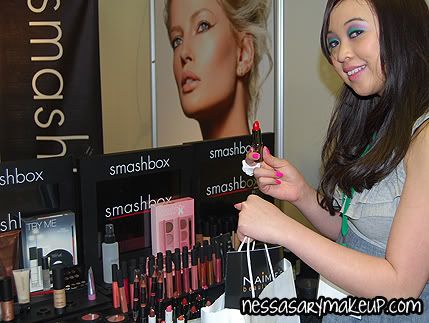 Make Up For Ever Booth: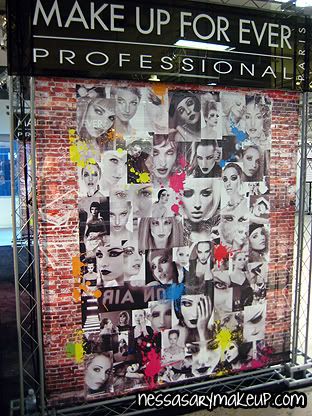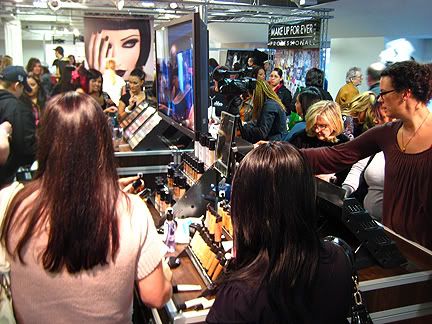 This ENTIRE bag costs over $300!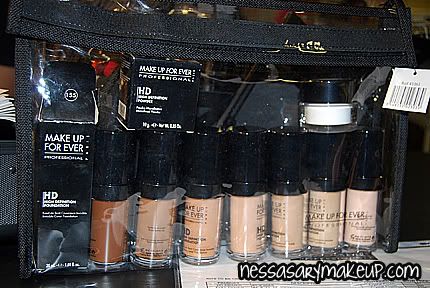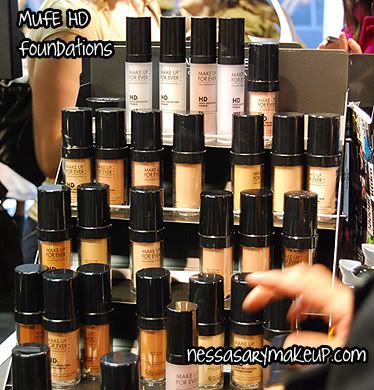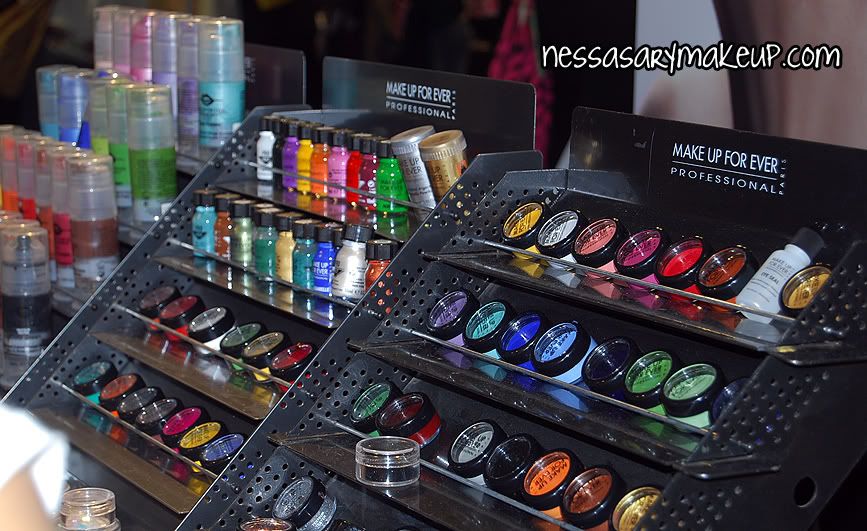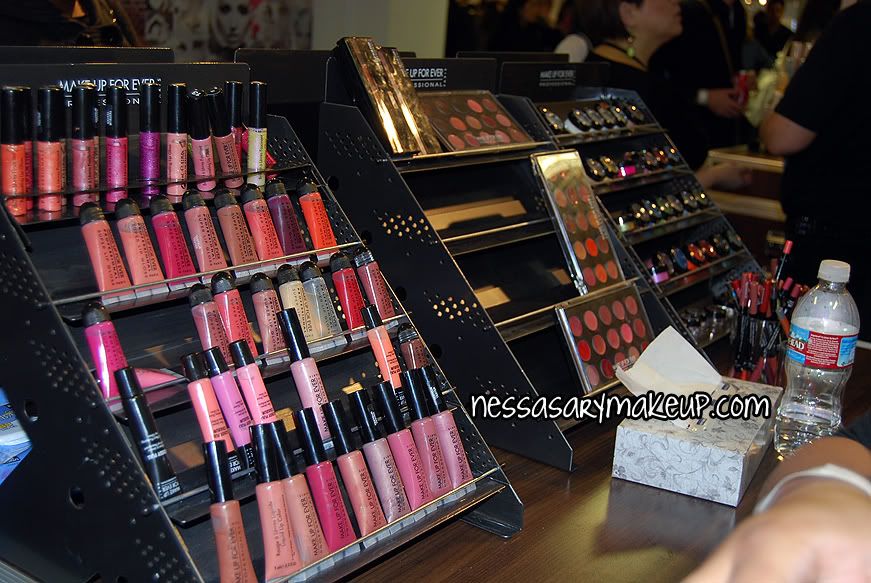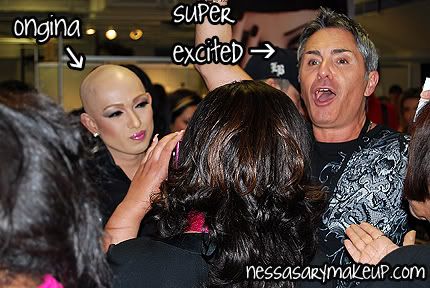 Me and some of the beauty blogger babes!

Me and Audrey (Fabuless Beauty)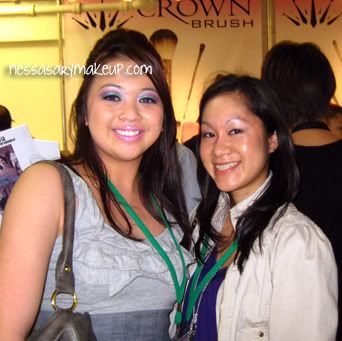 Group shot (from Audrey), I am always the odd one... :(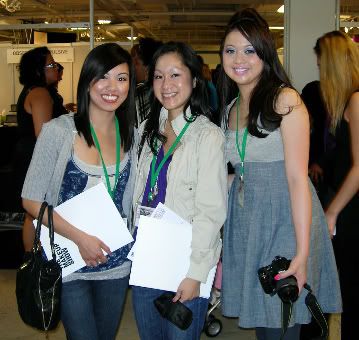 Me and Anne (Yummiebitez)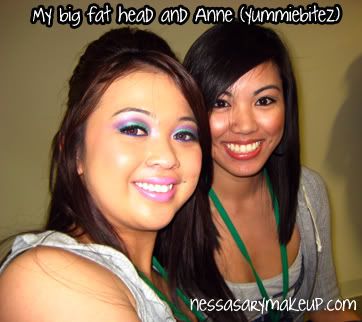 Me and Robyn (Purely Cosmetics)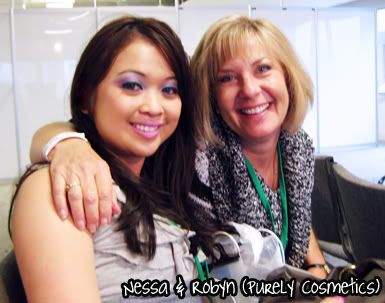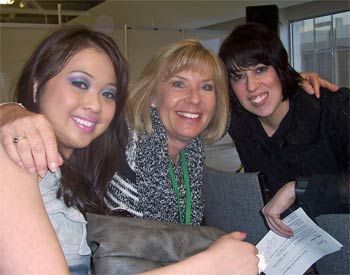 Me and the stunning Ingrid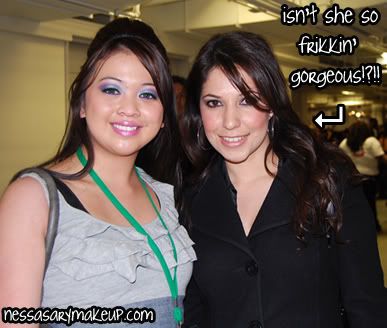 The beautiful (and tall!) Brenda from Cover FX: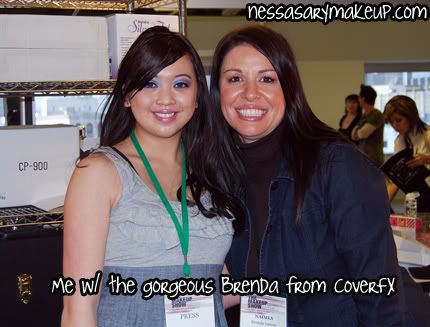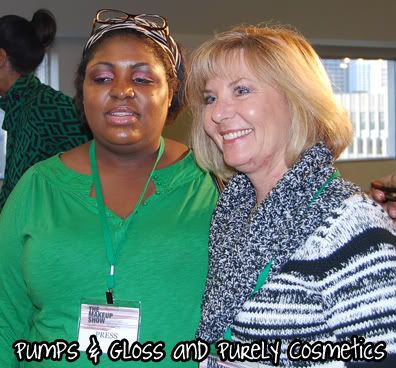 Robyn goofing off with her "tiny" eyeliner brush before the forum: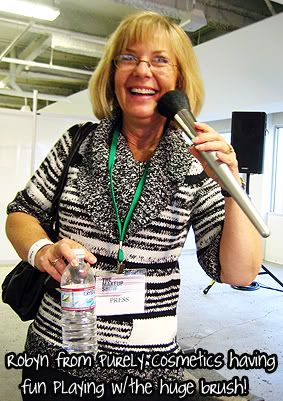 So what did I haul? Parian Spirit Brush Cleaner Kit for only $20! Comes with the cleaner jar, brush wipes, brush cleaner spray, and a huge bottle of brush cleaner, (yes once I use these items I WILL do a review!), Makeup Forever Concealer Palette #1 (since it was a nice 40% off at the show!), and some Crown Brushes of course! See I was good!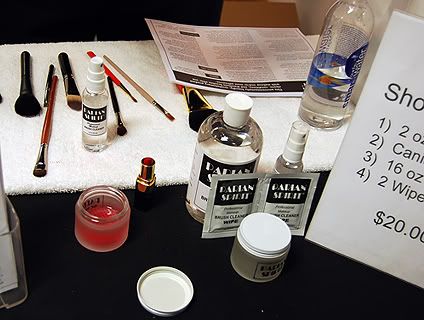 Parian Spirit Demo: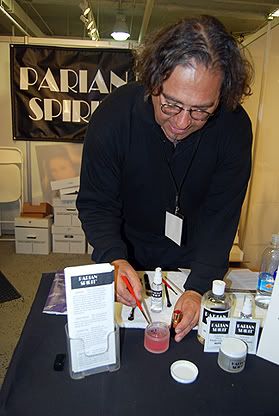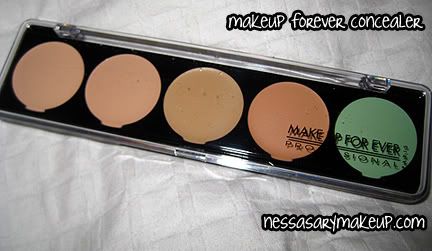 I don't know the exact style number of these brushes, but I am sure you can tell what kind of brushes they are... :) (Click to enlarge)