NYX Cosmetics is having an awesome lot sale right now at an unbelievable price! For an example, they have 30 of their pigmented lipsticks ALL for only $24.00 and the retail value is $120! That's a steal! Some readers have asked me about my thoughts on NYX and if they are as pigmented as MAC- and to be honest; I used NYX way before I even dabbled in MAC and I have always considered them to be the cream of the crop under the drugstore category/affordable brands. NYX has great pigmentation, a variety of colors and products, and the best part is that each one of their products makes our wallets happy because they are all so affordable. Most of their items such as their single/trio eyeshadows, lipsticks, lipglosses, lip and eye pencils, etc. are all well under $8 each.

If your a beauty vixen on a budget or looking for good dupes of some other products, NYX is a perfect place to start.

Thanks to all you ladies on the hair suggestion! I value your input and opinions greatly, and as much as this blog is helpful to some of you, it works the same the other way around in which each and every one of you have HELPED ME! So thanks my blogger sisters! I have decided to do the side swept bangs and leave my hair dark (for now), although for the summer I may want to throw some highlights for a little variation, but it's not a sure thing since I am lazy when it comes to maintaining my hair and I hate nothing more than having to go to the salon for a touch-up.

The show was great in a nutshell, not as big as other shows i've been to BUT industry wise I thought that this was the BEST show if you are a makeup artist, aspiring makeup artist, special fx, etc. because the best artists and creative minds in this industry- were there. So this is definitely the show you want to be at. I will talk more about it in my upcoming post, but it was a fantastic show and thanks to you wonderful ladies that stopped me to say hello! It was so nice meeting some of you finally and to chat a bit, you all are just stunning in person and I appreciate the support, especially to those who sat in on the forum! Ingrid & Audrey (Fabuless Beauty)- you girls are so sweet and down to earth and it was such a pleasure!

Erica and I were super tired from the show, we ended up not going to the after party; especially because I have work the next day...so I ended up knocking out for a couple of hours to re-energize myself (and dreaming about Robert Pattinson a.k.a. Edward Cullen! LOL). Didn't even get to play with my toys I got from the show (next post!) But nonetheless we had fun...and we learned a lot! Which of course we will be sharing with you our experience and the new tips and tricks of the trade we have learned from our favorite celeb makeup artists!

And yes...the Purely Cosmetics post will be posted today for sure! Probably while im watching the new episode of GOSSIP GIRL!!!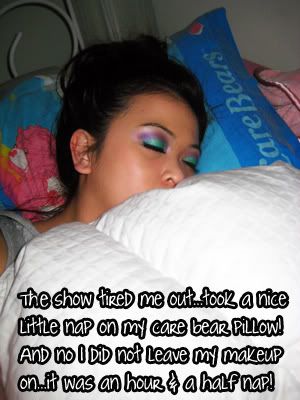 Of course I was dreaming about Edward Cullen! LOL. (Don't tell the BF!)



HAHAHAHA

Erica: "you're too white, it doesn't match"
Me: "I'm a vampire! I am supposed to be pale!"
Erica: Oh geezus...

Bella just doesn't know how to pick the right foundation! LOL.