It's apparent where I get my makeup addiction from- my grandma.

The woman can hold it down like no other! And oddly enough my mom doesn't wear makeup so I always wondered how this obsession started, LOL. My grandma gave me a box of makeup (mostly Clinique stuff) and told me to get whatever I wanted, can't pass that up!

I have never been much of an avid fan of Clinique, not that I don't like their products (I was rockin' their "Happy" perfume for awhile!), I just never really paid much attention to some of their items, and that's about to change! I already have a list of things I wanna try from their line! I did use their Dramatically Different Moisturizing Lotion when I was in my teenage years and at the time it was too oily for me which might actually work for me now with my dry skin...

Anyway, I was just amazed that my grams had a box full of crap laying around- just like me. It was super cute too because we basically "swapped" goodies and I gave her a bunch of lipglosses I never used and she loved them because "they matched her outfits". Awww! And let me tell you my grams is not an old granny, she's still pretty young as only in her early 60's, and she still doesn't have any gray hair!

Of course once I give these babies a road test I will review 'em!

OH! And for those of you who have asked me about the Almay Toner in my previous post, I got it from Longs Drugs awhile back, it was on sale for like $4. I don't like the smell, and I have not personally tried it enough yet since I am trying to get through the other toners I bought (I don't know why I keep buying more either), but I will let you know!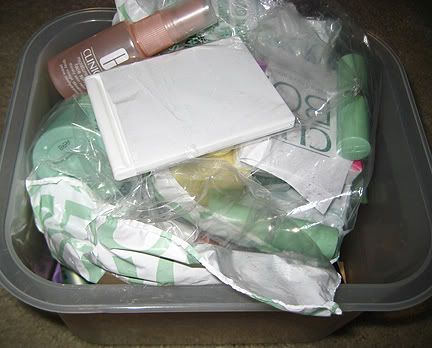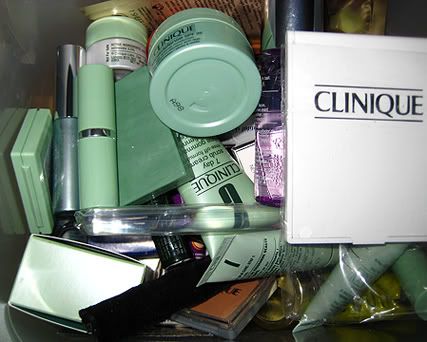 This cute compact, I loved the design, but didn't nab it because I don't need it, instead I needed eye and moisture creams...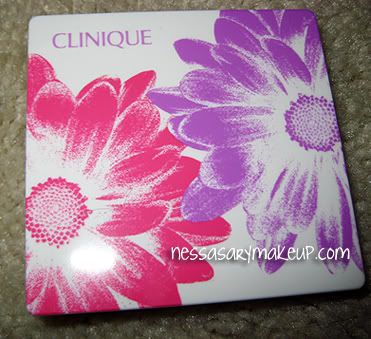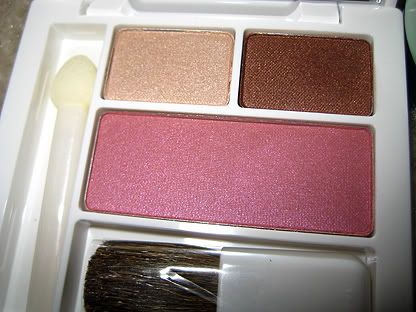 So what did I end up nabbing? (CLICK TO ENLARGE)



- Repairwear Day Moisturizer with SPF 15
- Clinique's 15 minute facial (a smoothing cream you leave on for 15 minutes then rinse off to reveal smoother looking skin)
- Moisture Surge Face Spray (reminds me of MAC's makeup Fix+ spray) to refresh the face
- City Block Sheer Shimmer Face lotion w/ SPF 15(has tiny shimmer to brighten the complexion especially on no makeup days)
- Clinique All About Eyes (heard many raves on this to dimish dark circles and puffiness, can't wait to try it out!)
- Super Defense Moisturizer with SPF 25 (fight the signs of aging!)
- And 2 mascaras