I have already randomly picked out 2 winners for the Crest Advanced Seal Whitestrips contest, but I am waiting to get their names to announce them on here (as some emails didn't have the person's actual name in it)...I will also be doing my Purely Cosmetics review and haul this week!

Anyway, the BF and I just spent this weekend out and about, we had lunch at Red Robin at the Irvine Spectrum (you HAVE to try their Pomegranate Blueberry drink it's YUMMY!), we then headed to the South Coast Plaza because the BF felt bad that I didn't find anything at the Spectrum, so he took me to get my MAC Pro fix, LOL. I just ended up getting the pro pan eyeshadow refills of "Sky Blue" and "Red Violet" (both PRO colors), as well as the Moisturelush Eye Cream (review coming soon of course after i've done "testing" it), but so far so food, I really like this cream.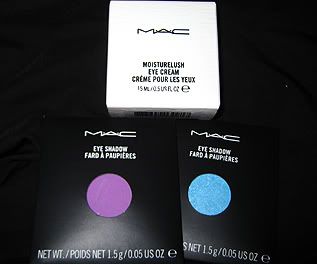 We then went to this reflexology place called "Happy Feet" near the Puente Hills Mall, and they give you a back and foot massage for only $15 an hour! They soak your feet and give you a back rub, then do reflexology on your feet with oils...it felt so nice! The BF is ticklish so of course he kept giggling like a little school girl, LOL. But it was a nice day spent together!

On Sunday we went to the Marukai market to get some snacks and as usual came out with more than snacks!




I will review these of course as I use them, I got more Mandom makeup remover because I love this stuff, it's like water and removes my makeup like no other. I also got more oil face wash (oil cleansing method) since it helps me keep moisture in my dry face, and a pore minimizer makeup type base. I went old school and got some Eskinol and Eskinol's Pearl Cream (in a super tiny jar and got these 2 at Seafood City). So I will review them soon!

Also Ohayousa (which was a store they had in the Puente Hills mall) closed down! It's now Cosme Land which is pretty much all beauty related products and skincare and is right next to the closed store...in case you ladies who live nearby wanna check it out! I ended up nabbing a foldable eyelash curler (I will demonstrate this later along with my review), and some nail design tips...