Product: 5 out of 5
Packaging: 5 out of 5
Quality: 5 out of 5
Overall: 5 out of 5
Would I buy again? Yes
Price and Where to buy: $35-$45, depending on where you get it. They have it pretty much everywhere such as Wal-Mart, Target, drugstores, etc.
Supply: 14 day supply

What they say:

New Crest Whitestrips Advanced Seal features a groundbreaking adhesive formulation that holds the Whitestrips in place.

* Uses the same safe and effective whitening ingredient dentists use to remove stains beneath the enamel
* Instantly molds and adheres to teeth, so you can go about your life while you whiten—you can even drink water
* Comes off easily and leaves no messy residue behind, you can even drink water with them on!

The Crest Whitestrips has Corplex technology to create moisture activated and solid gel formulation that provides adhesion to the teeth while delivering the same whitening results as the existing family of Crest products.

Has 4 unique layers:

- Backing (outer) layer: Keeps whitening ingredient and advanced adhesive firmly on the teeth.
- Whitening layer: Delivers the same whitening ingredient used by professionals including their existing whitestrips.
- Mesh layer: Prevents gel from spreading to other areas of the mouth.
- Release liner: Provides strips with stable backing for easy application.

So what makes this different from their older versions of the Whitestrips? It really stays on! I have been using their old version of their whitestrips for awhile now and it's nothing compared to their new advanced seal strips. The new strips have a stronger backing so it is secured to your teeth rather than sliding off. Seriously it does not budge and because of that, you hardly taste the nasty gel as much as you normally would with the existing Crest Whitestrips; AND your teeth are whitened evenly as opposed to the old strips. They are not hard to take off, a little peel at the corners and you can pull it off gently, but they do stay on meaning that they don't come off as easily as their older version, so you actually have to remove them rather than just taking them off without thinking about it.

Directions: Use both strips (top and bottom teeth) for 30 minutes, once a day only.

I didn't take any close ups of the teeth because teeth pics are gross in general haha, but I will have a FOTD soon and you can see for yourself!

PROS:
- In just 2 days I already noticed a difference, my smile was a few shades whiter and it looked and felt cleaner. Definitely works a lot faster in terms of seeing results in comparison to the prototype version.
- I didn't taste the nasty gel as much as the older version of their whitestrips, at times not even at all.
- Only have to use it once a day, for 30 minutes instead of some of their other products (as well as other brands) that require application TWICE a day.
- Doesn't slide or slip off like the old school whitestrips, these babies stay on your smile which makes it really effective in whitening your teeth evenly since the gel stays put.
- Easy to take off, less mess, and easy to find at a majority of stores.
- A great "quick fix" or to help maintain whiter teeth in between dentists visits.
- Easy to travel with or to take along in the makeup bag as they come in individual packages.

CONS:
- The price at my local Wal-Mart had them in the $35 range, to me it's a great price considering my dentist charges a lot more, but then again the dentist's method and result are probably longer lasting as oppose to the strips; so it may be a bit steep in price, but they honestly work great!
- May cause teeth sensitivity for some people so be cautious when using ANY product for the first time. They DO NOT recommend brushing your teeth AND THEN putting on the strips which contribute to sensitivity.

Overall? I am absolutely in love with these strips, they work like they claim and I really loved how I can use it while im in the shower or doing my makeup without worrying about it slipping off. And I like how I don't taste the nasty gel whereas the older version of the whitestrips, I could. In just 3 days you can already notice a considerable difference and your teeth are cleaner and a couple shades lighter. Definitely recommend it to those of you who currently or have used the old versions of the Whitestrips and hated it. This new version will definitely have you coming back. It's also great for those who don't wanna pay an arm and a leg at the dentist's office for teeth whitening or even in between dentist visits.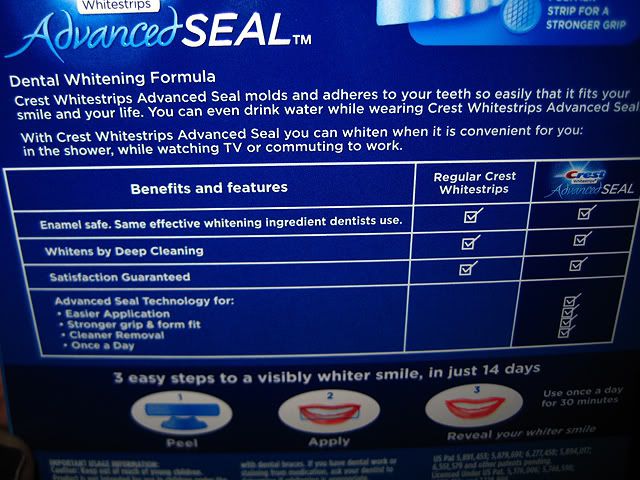 The box in comparison to my brand new baby laptop, the HP mini (8.9")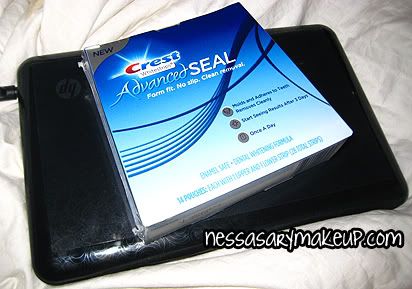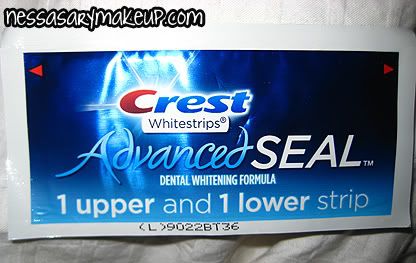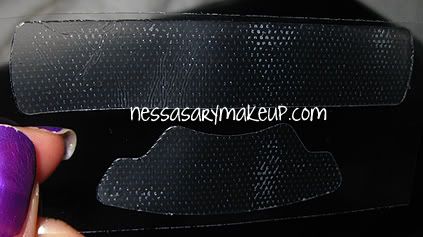 EDIT: Thanks to a reader who informed me, Drugstore.com has them on sale with a $10 coupon and free shipping with minimum of $25 purchase to new drugstore.com customers only!