I received the jars yesterday, however it's already all gone! I can't believe I had so many orders lined up and so I ordered more! So Jennifer, Erica and Susie, your orders will be shipped out tomorrow.
***For you ladies interested in purchasing some pigment samples, PLEASE email me (email addy is above) with your first and last name, the colors you want, and your address. I have to take private orders to gauge how many jars I will need, as well as if I need to re-stock on pigments. Again, the colors I have are: Teal, Violet, Golden Lemon, Emerald Green, Your Ladyship, Gold Stroke, Cool Pink, Pinked Mauve, Fuchsia, Vanilla, Sweet Sienna. It's on a first come, first serve basis, once I get them all in, I can then see what is still available. "Sweet Sienna" is a limited edition item and will not be offered for sampling after a certain point. At this time I do not plan on re-purchasing it for sampling. Thanks!
____________________________________________________________________________
FOTD

I wanted to try a soft natural everyday look just using the pigments, and I just bought "Gold Stroke" and never had a chance to use it, so I paired it with the "Golden Lemon" Pigment and it actually came out really nice (in person anyway), so these pictures don't even do it justice. My co-workers liked it too, so it's definitely going into my "favorite-look" book.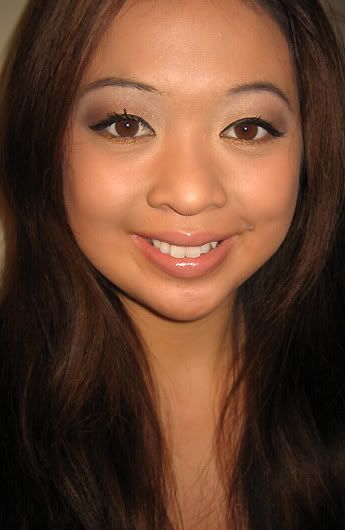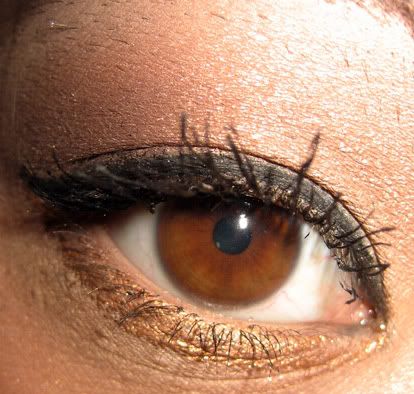 What I used:

Face:
- MAC Beauty Powder in "Drizzlegold" under my Silk Naturals foundation (Warm Gold)
- MAC Sculpting Powder to contour sides of nose

Eyes:
- Physician's Formula Concealer Duo
- MAC Concealer (NC30)
- MAC Pigment in "Golden Lemon" (all over the lid and applied wet)
- MAC Pigment in "Gold Stroke" (outer half of lid, outer-V and contour)
- Prestige Liquid Eyeliner (Bronze Gold)

Cheeks:
- Everyday Minerals "Waffle Cone" Blush
- MAC MSF in "Goldspill"

Lips:
- Rosebud's Strawberry Lip Balm
- Botanics Lipgloss in "Star Anise"