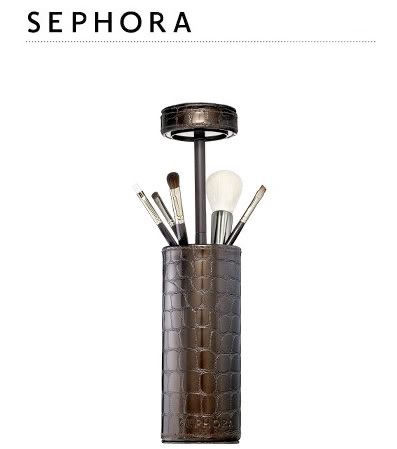 I bought the Sephora Pop-Up Brush Set online, I don't really care for the brushes as I have a ridiculous massive collection of brushes, but I really wanted the brush holder because you pull it up to reveal all your brushes, and I thought this would be such a cute and great addition to my "travel items". I bought the one in Ivory, but the chocolate one looks just as yummy. I just have this weird obsession with cream/beige/and white. :)

From the Sephora site:

Featuring top quality Sephora Brand brushes, this set also has an ingenious mechanism - simply pull gently up on the circle at the top and your brushes are revealed. Keep it open on a vanity for easy access, or close it for storage or travel. At 5" tall it's the perfect size for tossing in your carry-on or purse.

Set includes a complexion (blush/powder) brush, concealer/lip brush, all over eyeshadow brush, eyeshadow detail brush, and an angled eyeliner/brow brush.