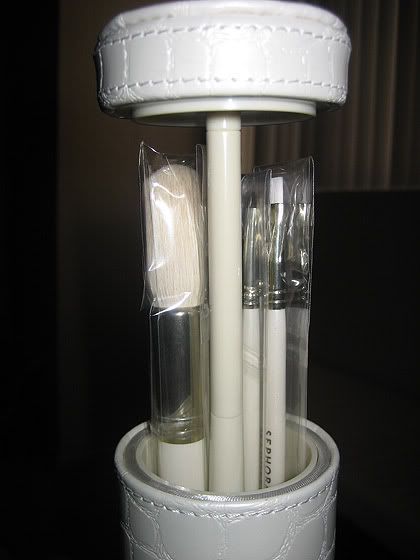 Price: 4 out of 5
Packaging: 5 out of 5
Overall: 5 out of 5

We ended up staying at Jon's friend's house and he has internet connection! Woohoo! I was going to post yesterday but I was too busy with that damn addicting video roulette. I am not quite ready to play the real table roulette just yet. :)

I know many of you ladies have asked me to post a review on the Sephora pop-up brush set I recently hauled, so here it is! I LOVE it! When I first saw it in the Sephora holiday catalog, I said "Oh what a neat idea", then I looked at the price and was like "$45 for a brush holder!!?" Then I actually read the description and it comes with brushes too! So that seemed more realistic and reasonable!

What I love about it: It's perfect for my 'extra' brushes that no longer fit in my brush roll. It's great for traveling and it's very organized. I was worried the brushes would get somewhat 'caught' when you try to push it down to where you would have to push the brushes in yourself and THEN close it, but not at all with this brush holder. You literally pull it up to see and grab all your brushes, and push it down when you are done- that's it. Even if you were to flip it upside down, it doesn't open causing all your precious brushes to spill out. I also love the case/holder itself. I bought the ivory/croc looking one and I love how sturdy it seems and the classy look it gives. It comes in chocolate brown as well and its just as pretty! The brushes that came with it were: a powder brush (which I used as a blush brush), an eyebrow brush (love it), a fluffy eyeshadow brush, a smudge brush (perfect for the outer-V and contouring), and a lip brush.

What I didn't love about it: Nothing really, the entire thing is just lovely! I really love mine, however I wish it was a bit roomier for more of the bigger brushes, but then again, I have A LOT of brushes, so maybe it IS roomy, I just have too many damn brushes. LOL.