So at work we've been OVERLY busy, coming back from New York, we had a lot on our plate! So since we were a bit understaffed, my boss was looking for a temp to just do work for a couple days on show stuff, and just so happens that my BF who is unemployed for a couple of days (doesn't start his new job until Friday)AND him and my boss are like buddies...So what happens????

My BF is working with me tomorrow. Great. LOL. The only plus about this situation is being able to use the carpool lane on the 405 freeway. Other than that, I am scared he is either going to a.)embarrass me or b.)embarrass me. LOL. You don't even know how crazy he is, he is such a jokester AND loves a good prank, even in the workplace. That means I spend ALL DAY with him, at night, in the morning, at lunch, during the day, and then we go home together! Yikes, talk about BF overload haha. I told him to be on his best behavior if he doesn't want to sleep on the couch tonight. ;)

It definitely should be interesting.....

Anyway, here is a sneak peak of the new 7-piece Holiday Brush Sets from Sonia Kushuk available at Target. They have gold handles and comes with a cute case!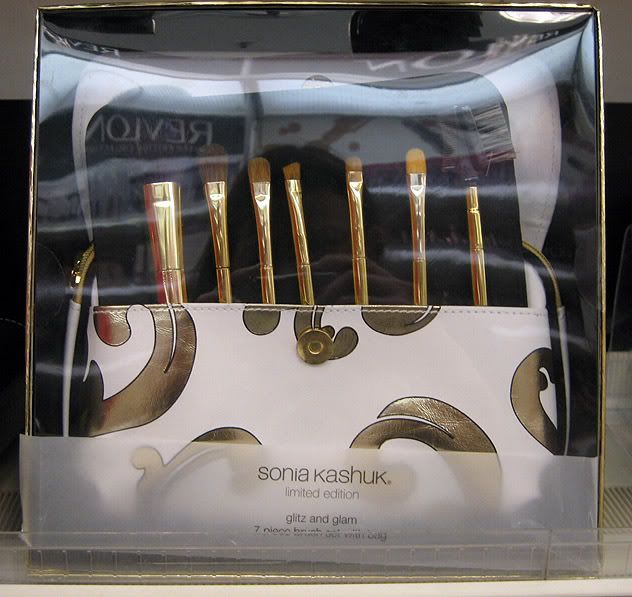 So I outgrew my other Sterilite storage drawers thanks to my really bad shopping habit, and hence oddly enough, bought BIGGER drawers to store MORE makeup I buy in the future (go fig). So I ended up storing all the sample jars in one drawer and all other miscellaneous or "back up" makeup in another...