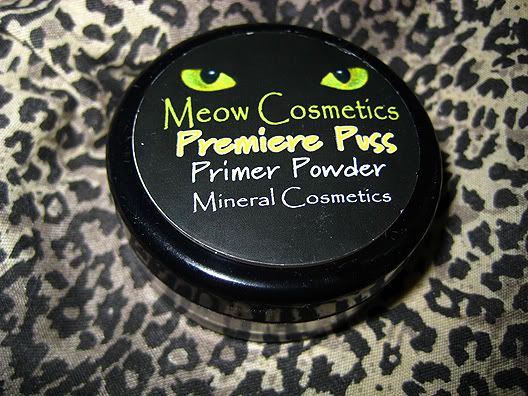 I had some questions regarding this primer powder and whether it can be used under liquid foundations and whether powder primers are better than other types of primers (i.e gel, creams). Powder Primers are generally used for mineral makeup foundation, merely because the powder primer absorbs the natural oils of your skin creating a barrier between the oils on your face and your mineral foundation, keeping your face shine and oil free for a flawless look. The reason I think a powder primer may not work for those of you who use liquid foundation is because most liquid foundations itself already have oils in them perhaps defeating the purpose of the powder primer. I think gel or cream primers are better in terms of creating a smooth canvas for foundation application (mineral or liquid), as well as allowing your foundation to 'stick' better for a lasting look, but powder primers are great for those of you who have oily skin or an oily t-zone.

Product: 5 out of 5
Packaging: 5 out of 5
Price: 5 out of 5
Overall: 5 out of 5

What the site says:

Available in two distinctly different formulations, designed for either Oily or Combination (normal&oily) skin.

The Oily Skin Premiere Puss Primer is a uniquely indulgent formulation for oily skins. Unlike other oily skin primers that can leave skin overly dry or irritated, there are no harsh irritating or comedogenic ingredients here. Enriched with the oil absorbing properties of Kaolin Clay, the glorious texture of Silk Powder and the luxurious slip and cashmere-like feel of boron nitride, it's purrrfection for oily skin types, like never before!

Part Oily/Part Normal skin has finally found it's holy grail of primers in Premiere Puss's Combination Skin formulation. With the soothing properties of silk powder and the slip and silkiness and amazing skin adhesion of boron nitride, this primer glides on to help create the look and feel of balanced skin.

I read great reviews on this, and some even labeled it as their "holy grail primer powder", so I went ahead and ordered the full-size, I tried it for 3 days and I totally love it! This is actually my very first item from Meow Cosmetics, someone asked if I tried their foundation and I have not.

PROS: It made my skin look really smooth under my mineral foundation, and it really absorbed any oils I had throughout the day that normally will show in the middle of the day when my t-zone is shiny, but with this primer powder I didn't notice any shine at all, I even wore it at the gym and it did an awesome job of controlling oil. The ingredients are: Kaolin Clay, Silk Powder, Boron Nitride. It is also available for combination skin AND samples are available for yours to try!

CONS: The white powder can be messy, so if you are wearing black, I suggest to apply your makeup BEFORE you get into your outfit. :)

You would like this if: You use mineral foundation and have oily skin or an oily t-zone and experience shiny skin in the middle of the day and don't want to have to constantly use oil absorbing sheets to keep oil at bay.

You may not like this if: You have dry skin as this can perhaps enhance the dryness of your skin making your skin look uneven and blotchy.

Overall: I really like this powder and definitely would re-purchase, I really like not having to worry if im shiny or not....samples are available in case you want to try before you buy, and like I mentioned there are two, one for oily and one for combination skin.