Like promised, here are the basic steps I used to create the Metallica Look from a few days ago. I forgot to add that I also used L'Oreal's HIP Pigments in "Restless".

Step 1: I put my highlighting base first all over my ENTIRE lid, you can use any light color.



Step 2: Using a spong-tip applicator for better control and pigmentation, I then apply the antique gold eyeshadow from the lashline to slightly above my crease.



Step 3: I then add more shimmer and highlight using the HIP Pigment in "Restless".



Step 4: Using a black Kohl Eyeliner, I apply it to my lashline and using a SMUDGE BRUSH, I then smudge it across my lash line.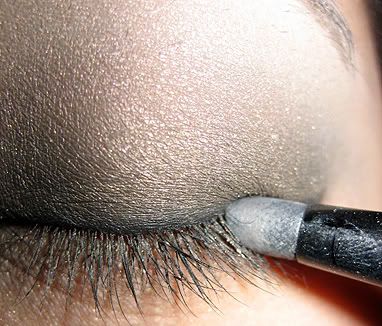 Step 5: Add mascara and line the bottom....

Step 6: Voila!