Some of you have been asking me about the lipglosses I use in some of my tutorials, and so I made a lipgloss swatch chart of my most commonly used lipglosses, I have others but rarely use them, so these are the ones that are on rotation...my favorite is NYX's Lipgloss in "Bubblegum".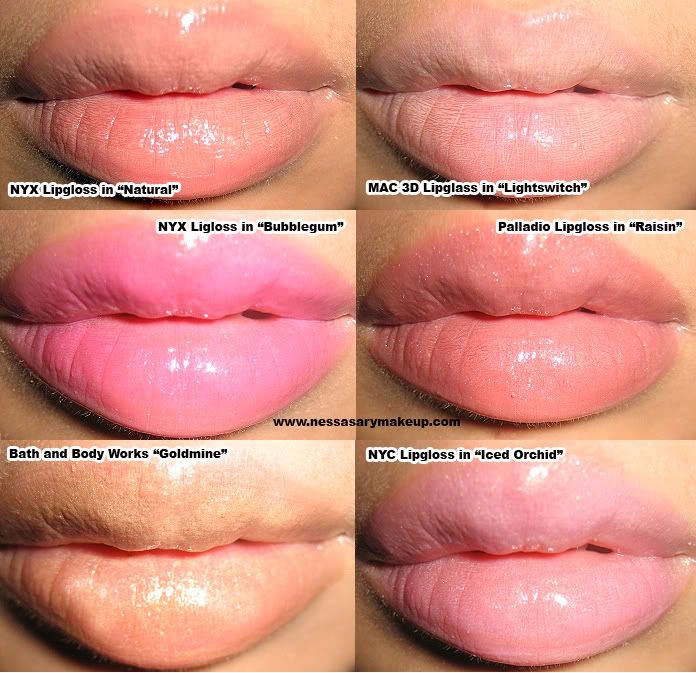 And here is a swatch of NYX's Chrome Eyeshadow in "Blue Lagoon":




Im heading back to the MAC Store to pick up "Fresco Rose", at first I didn't think I can use it often since it's pink, but we'll see, I think it'll make a great all over base. I can't wait to get my palette from Nixie and fill it up! I pretty much have every eyeshadow shade/color I want, I just wanna get ULTA's "Peacock" and a few of their other colors. I LOVE the "Rubenesque" Paint, it's super pretty!

I think I wanna get a MAC Lipstick too, even though I am not much of a lipstick person, I used to get their "Folio" all the time during my teenage years, but it has since been discontinued and haven't found anything even close to it. But I am eyeing their "Brew" Lipstick from the "Smoke Signals" Collection....