I bought this nail polish remover from Wal-Mart, you basically put each finger inside and twist the bottle and it's gone! I tried and it's super cool! I must say, it takes the "fibers-of-cotton still on your fingernails" problem away, makes manicures so much faster!




I also got my Milani Blush in "Luminous" and I got some loose shimmery pigment from Makeup Forever which costs a frikkin $18! I think that's a lot of money for that, especially since MAC's Pigments are $19.50 but will last a lifetime!

I love the blush it's such a pretty color!




Here is the FOTD, I outlined and contoured the natural curve of my lid with the "Knight Divine".: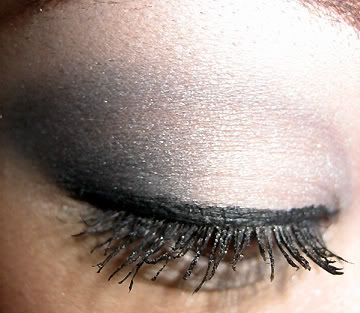 EYES:
- MAC's "Knight Divine" in the outer to the middle part of the lid
- Milani "Black Storm" blended in the outer V with Knight Divine
- Highlight I used MAC's VEX and the new makeup forever pigment in #940.
- Indelible Gel Eyeliner in "Black Out"
- L'Oreal Telescopic Mascara

Face:
- KT Naturals Foundation in "Medium Warm'
- Milani Luminous Blush

Lips:
- NYC "Iced Orchid"
- Sephora Lip Liner in #206
- MAC 3D Lipglass in "Lightswitch"





Jon got a hold of my makeup box! Oh my little Indian! He even gave himself a black eye! Oh the joys of makeup!